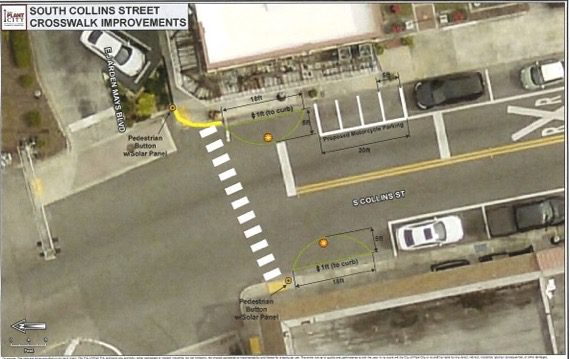 The new crosswalk in town will be aimed at improving pedestrian safety.
Walking across the heavily traveled Collins Street in downtown will soon get a little easier.
At its last meeting, the Community Redevelopment Agency adopted a resolution approving a budget adjustment to appropriate $30,000 for pedestrian crossing improvements at Collins Street and J Arden Mays Boulevard. The crosswalk will feature pedestrian buttons and a solar-powered flashing beacon (RRFB) designed to alert drivers the crosswalk is in use and improve pedestrian safety.
"The project comes after input from the public as well as observations by staff, there's a pubic parking lot on one side of the road so you get a lot of people crossing there to get to the businesses across the street," said City Manager Bill McDaniel. "It's a safety issue and the intersection is wider there because of the way the road is configured around the railroad tracks, it makes it difficult for pedestrians who want to cross the street."
The new crosswalk will be constructed in-house and will be a joint venture between several city departments, including Streets and Stormwater, Traffic Engineering Department and Parks and Recreation.
Fred Baxter, CPM, Manager of Traffic Operations, said the parking spot in front of The Whistle Stop will be converted into parking for motorcycles to create better line of sight at the crossing. "We want the best possible solution for advanced visualization of not only the pedestrian signal but the actual pedestrians themselves when using the crosswalk," he said.
Whistle Stop owner Marti Lofstrom, who's pleased that the crosswalk will offer people a safer way to cross the street, doesn't mind the motorcycle parking. For her, it's a nod to her late husband, Jerry, who passed away almost a year and a half ago. "He was a motorcycle rider and he would have been tickled for that," she said. "He would be happy because we need to take care of our motorycle riders too."
Rich Sarmento, co-owner of Spirit Art Gallery, was happy when he heard the news. "I have customers that park in the parking lot across the street and have to walk across Collins Street, and have to walk further down the street to find a crosswalk so this is definitely needed," he said. "I love it, it'll generate more foot traffic into the store for us and will be safer for customers."
A timeline for the project has not yet been finalized but Baxter has a target completion date of November.