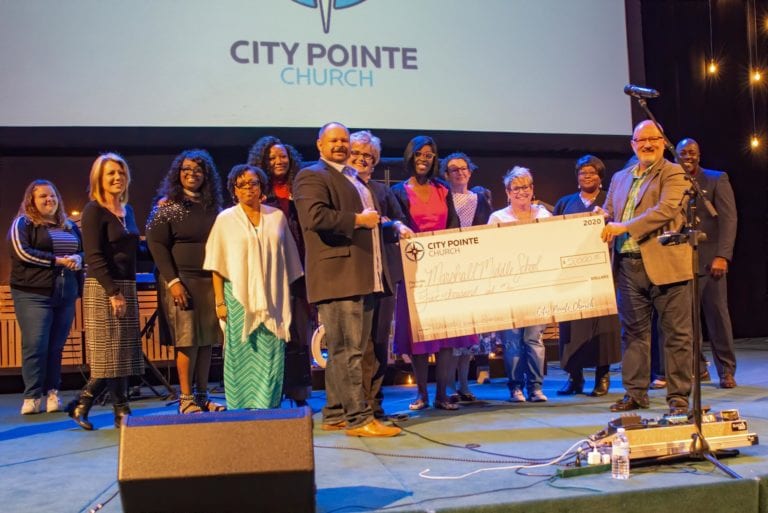 During the church's fourth anniversary, Pastor Scott McIntosh presented Marshall Middle Magnet School Principal Daphne Blanton with a $5,000 check to refurbish the teacher's lounge.
When City Pointe Church was officially formed four years, ago the attendees had one vision in mind: for it to be a church that serves the community.
Pastor Scott McIntosh said every year, City Pointe does an end-of-the-year project. Last year, it funded the drilling of a water well in South America and this year made Marshall its big project. The teacher's lounge desperately needed some upgrades and when McIntosh and his team showed Marshall Middle Magnet School's Principal Daphne Blanton some of the transformations they've done to areas of their own church, she was fully on board with the project.
"Marshall Middle School is partnered with us, kind of like a business partner, and they're one of the many organizations and businesses around that we help out throughout the year," McIntosh said. "Our four-year anniversary was great. We love making a difference in the community around us in practical way. We partner with so many different organizations, and to date we've given approximately $150,000 away. When we planted the church, we dreamed of a church that made a practical difference in the community around us. The first year, we started with Marshall doing some small things and later we became their business partner. We've given away backpacks, blessing boxes, provided meals and I was over there a little while ago and noticed their teacher break room needed a little extra love."
They're not just throwing in some new furniture. The church is repainting the entire room, installing new floors and doing a variety of other transformative repairs to ensure Marshall's educators have a relaxing and high quality space to unwind in.
"We are going to transform it so that when the teachers come in, they will know they are amazingly loved and cared about," McIntosh said. "If we love on the teachers, we believe that will help them love on the students even more. They give so much every day, so it is just an honor to be able to give back to them. We are proud to play a part and make a difference. The teachers over there are the real heroes of the story. It just blows my mind when I think about everything that they do day in and day out. They are such a blessing to our community and we hope this will be a blessing to them."
On top of the lounge, meals and book bags, City Pointe has also given blessing boxes to Marshall. At the end of every year, City Pointe members fill boxes up with practical items like food, coffee, candy and other long-lasting items, then distributes them to the community. They'll stand on the street and hand them out or go to businesses and organizations and give them away, and they've made it a point to go to Marshall and give one out to every faculty member at the school. They gave out more than 500 boxes every year.
Blanton joined McIntosh during the church's Feb. 2 anniversary service. The church had a pre-show where they dropped new music that will soon be available on iTunes, had caricature artists on site for the children, held a massive party following the service and, of course, did the check presentation with Blanton. Dozens of staff members from Marshall also attended in honor of the special event.
Right now, the church is in the designing and planning phases for the teacher's lounge rehab. Soon, volunteers will head over to begin the work by hand so no one from Marshall will have to lift a finger during the transformation. The faculty will get the final say in the design and then City Pointe will get to work. McIntosh said they're always looking for assistance and anyone who wishes to get involved with this project, or any of the church's mission program assignments, can call City Pointe at 813-441-6693.