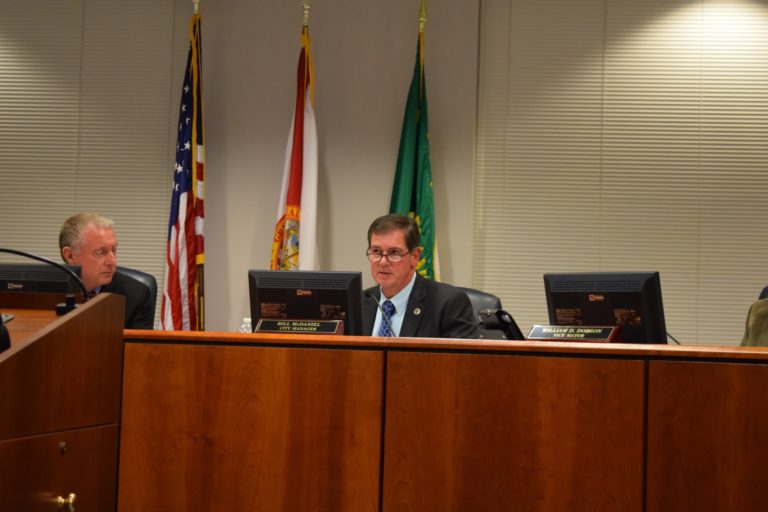 The multi-million dollar project would replace the shuttered MLK Rec Center.
The City Commission last Monday voted to move forward with plans to replace the Dr. Martin Luther King Jr. Recreation Center with a larger, full-service community center.
The standing MLK Center, which was built in 1961, has been closed since September when Hurricane Irma's impact worsened many existing issues. Water infiltration and trapped moisture caused mold growth and other extensive damages. City officials hoped the center would be up and running before 2018, but damages were found to be more extensive than initially thought. City staff said it would cost at least $400,000 to get the building open and much more to continue maintaining the aging structure. That prompted the city to consider replacing it with a full-service community center, inspired by one in Auburndale.
"One of the things that really stands out to me is that right now we have an important community asset that's offline and we have positioned ourselves as a city to make a decision to get that asset back online and possibly build something that will be unique and would serve all of our community at a level that we have not yet been able to do," City Manager Bill McDaniel said. "Quite frankly, I find that very exciting."
McDaniel said spending the money on repairing the existing MLK Center would leave the city with a "patched-up 60-year-old building" while the new center would provide new opportunities for decades to come.
Recreation and Parks Department Director Jack Holland said the existing site would be able to accommodate a 29,000 square-foot
facility. He said his staff visited the five-year-old Auburndale Community Center and Gym for inspiration. The Auburndale center has a 10,000 square-foot dividable community room with an adjacent kitchen, a teen area, craft area that doubles as a computer lab and 18,500 square-foot gym with two full-size basketball courts that can be used for a number of sports and activities.
While that facility is a good example of what can be built in Plant City, Holland said, ultimately, that's all it is.
"Auburndale is an example," Holland said. "We're going with our own design."
According to Chief Financial Officer Diane Reichard, the community center can be built with existing city funds. It's expected to cost the city around $4.5 million that will be pulled from already available money. Reichard said $500,000 will come from the city's community investment tax and $2 million each will come from the general fund and the fleet replacement fund.
"What I was very excited about is the fact that we're able to do this without taking on any debt," Mayor Rick Lott said. "We have fund balances where we can take dollars from three different fund balances and be able to do this without having to go out to the market to get a bond or any debt. That shows you how strong, financially, the city is and how good a standing we are in right now."
The new center will cost more to run than the existing MLK center with increased power consumption and the need for a third full-time staff member, but Holland said at least some of that cost will be offset by the size and amount of events that can be booked in a larger facility. Already, he said, the MLK Center gets booked frequently.
Commissioners decided unanimously to move the project forward. The MLK Center is expected to be demolished by mid-May, with the new center opening its doors by the beginning of July 2019 — an aggressive schedule, staff admitted.
"I just want to make one comment," Commissioner Mary Mathis said following the vote. "Let the work begin."