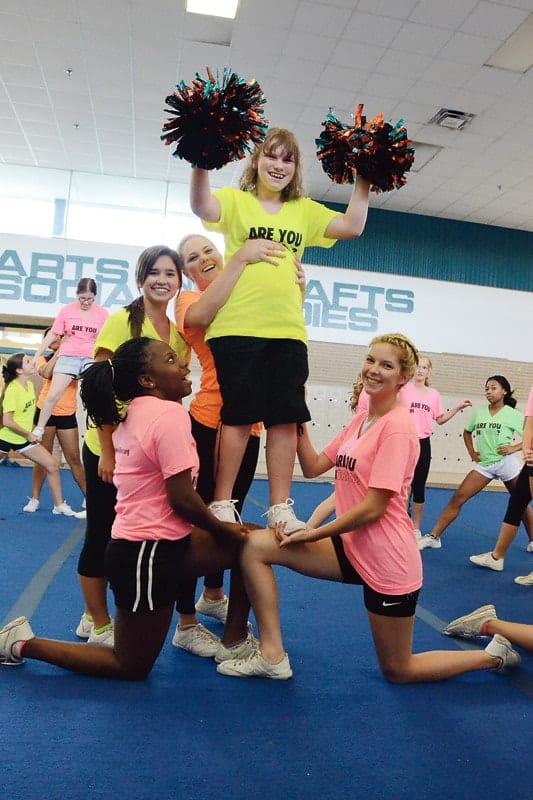 The Plant City High cheerleading squad will have extra spirit when they take the sidelines Sept. 6, at the Raiders' home opener.
Plant City is one of only two schools in Hillsborough County to have The Sparkle Effect program, an organization that empowers teens nationwide to include students with disabilities in school-based cheerleading and dance programs.
The Sparkle Effect stresses an inclusive environment in which students with special needs are included as members of the squad and not as a separate team. The PCHS varsity cheer squad will cheer with The Sparkle Effect cheerleaders for the first quarter of every home football game this fall.
Varsity cheerleader Sara Girling submitted to her guidance counselor a proposal to launch the program at PCHS. Part of the submission was to request a grant to pay for uniforms for the girls. A $500 grant was approved by The Sparkle Effect, which the PCHS varsity cheer team matched. The Plant City Lions Club and Plant City Rotary Club also contributed money to fund the program.
"It's an amazing program, and, so far, it's been great," PCHS cheer coach and special education teacher Karen Snapp said.
ONE OF THE GIRLS
For Leslie Carlisle, who is orthopedically impaired, the program is about allowing her to fit in and feel included.
"It makes me feel more normal and just like one of the girls," Carlisle said.
Though Carlisle can't walk, she is still able to participate in her favorite part of cheering — stunting. During the first practice with The Sparkle Effect cheerleaders Aug. 26, Carlisle used her chair as a pillar for a pyramid stunt with PCHS varsity cheerleaders.
"It's good for the girls, because it builds their character and lets them live out their dream," Snapp said.
Snapp has six students participating with the program. All have ranging disabilities.
"Our special-needs cheerleaders just eat it up, and I think that's the important thing — just to bring smiles to their faces," Snapp said.
The program has been rewarding for the varsity cheerleaders, as well.
"When I found out about it, I was just really excited that they get the opportunity to do this," said senior Kelly Drake. "They deserve an opportunity to do anything that anyone else can."
Drake even got to practice sign language to communicate with one of the girls. It was the first time she got to use the sign language she had learned to interact with someone who is deaf.
"It just lit up my day, seeing how their day was made and how much they appreciate being able to do this," Drake said after the first weekly practice. "It was just great seeing how happy they were."
FUTURE GROWTH
With a large special-needs student base, Snapp felt that the program was a good fit at PCHS.
"The parents are just so thankful and so appreciative that the girls can just be included," Snapp said. "There's not a whole lot of extracurricular activities for special-needs students."
The school has a "Best Buddies" program that acts as a big brother/big sister program for special-needs students and student volunteers, but The Sparkle Effect allows the students to participate in a popular extracurricular activity, and do it in front of students, faculty and the Plant City community at Friday night football games.
Snapp would like to see the program continue to grow in the school district but also would like to see an exhibition of The Sparkle Effect programs to coincide with Plant City's annual nine-way competition cheer event in January.
"I'd just like to see it grow all over the county," she said. "Maybe one day we can have a Sparkle Effect competition within our other competitions."
"Every girl wants to be a cheerleader," Snapp said. "A lot of these parents might not have thought that it was possible, but this proves that it is."