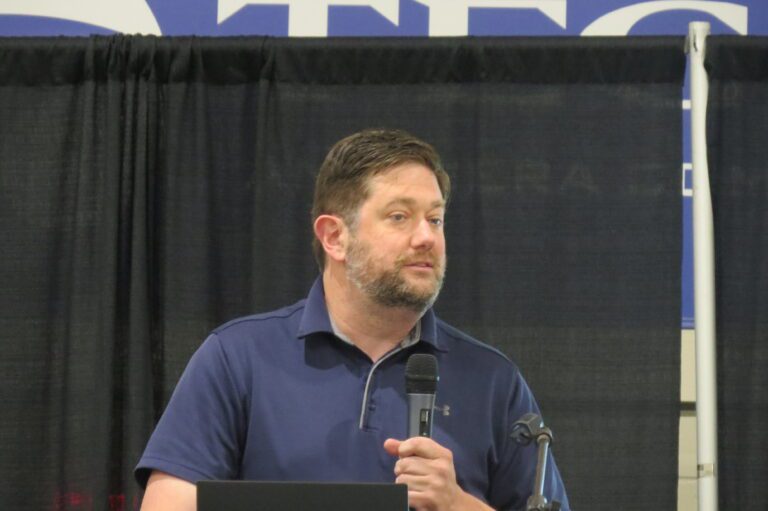 Senior Director Andrew Wiggins discusses issues on state level
Third grade reading and poverty were two topics that were discussed by Andrew Wiggins at the recent Greater Plant City Chamber of Commerce luncheon, held on June 9.
He is the senior director for Political Affairs and Coalitions Advocacy for the Florida Chamber of Commerce. This title requires him to manage the Florida Chamber's political campaign activity, build coalitions and work with local Chamber of Commerce throughout Florida.
At the TECO Expo Hall, he spoke about where Florida stands economically.
Florida State Economy
and Employment
"Right now, if Florida was its own country, it would have the 15th largest economy in the world," Wiggins said. "Our goal is to move us to the 10th. Prior to the pandemic, we were 17th."
He attributes this to opening up businesses statewide in a timely manner during the pandemic as well as having the right policies in place.
In Florida, there are approximately 515,000 job openings, but only 321,000 people actively seeking jobs.
"Finding workers out there right now, is extremely difficult at times," he said. "There's definitely a skills gap."
During the pandemic certain lines of work such as construction and trade continued to flourish while others like hospitality, education, and health services declined.
"We know that the economy is moving and jobs are being created, but there's some jobs that are trailing right now and there needs to be some work done to bring them back to pre-pandemic levels."
However, there are careers available that do not require a college diploma nor accruing $100,000 in debt, Wiggins added.
In Hillsborough County alone, there is an estimated 1.5 million residents and there is anticipation for that number to grow to 1.7 million residents at a minimum by 2030.
Along with good weather, Florida needs to focus on having the right policies that are beneficial to its citizens in order to attract newcomers to the state with a population of over 22 million people, Wiggins said.
The unemployment rate in the state is at 3% and declining, according to the Florida Scorecard, which shares metrics and statistical information on the state. This in turn shows a drop of those unemployed which stands at approximately 321,000 people.
Third-grade reading levels
The third-grade reading score is at 53% and is unfortunately showing a continuing downward trajectory.
"Prior to third-grade, a child learns to read," Wiggins said. "After third-grade, a child reads to learn. So if a child in third-grade can't meet grade level, they're already starting life at a disadvantage. "
He goes on to state that 90% of high school dropouts will not be able to read at a third-grade level.
The Florida Chamber Foundation's Florida Business Alliance for Early Learning Project has been making efforts to emphasize the importance of early learning and to help make business leaders aware of the mission. In many cases, the lack of proper education leads to poverty and unemployment.
"There are kids in our zip codes who don't have three meals a day because they're struggling," Wiggins said. "Summertime is probably the toughest time for them because they don't have access to school lunches."
The Florida Chamber Foundation's Florida Prosperity Project is also bringing business leaders together to provide equal job opportunities and end generational poverty.