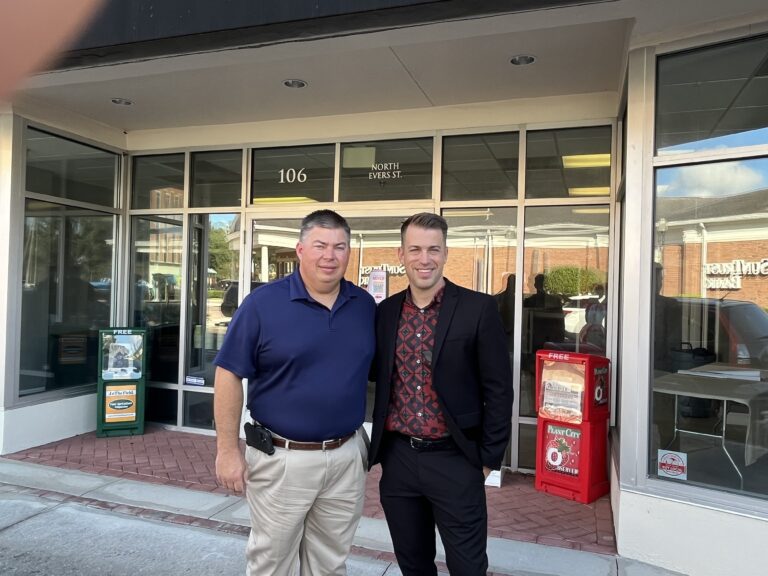 Event recognizes chamber of commerce relocation.
Last Tuesday, The Greater Plant City Chamber of Commerce officially said goodbye to its former place of residency.
This comes as the Chamber relocated its office from North Evers Street to West Reynolds Street, both in downtown Plant City.
The farewell event took place inside the former office space- once occupied with desks and chairs, now vacant and void of any settings.
However, the function had many attendees.
CEO-President Christine Miller of The Greater Plant City Chamber of Commerce was present with her staff to reflect on their memories there.
Alongside them were businessowners, contractors and city officials, including several commissioners.
Also present was Cliff Brown, the current part owner of the building.
As a music producer and DJ, he had lived in cities like Los Angeles and Atlanta before returning to his native Plant City.
Although he had established a business and recording studio in Tampa, Brown said he felt the need to bring his entrepreneurial spirit locally.
"There's a lot of (music) artists in the surrounding area and everybody's moving to Plant City right now," said Brown. "Instead of building businesses in other locations, we'd rather bring the business here. It being in our backyard, it just creates that opportunity."
His vision led him and his business partner, Dann Druen, to seek a suitable place in downtown Plant City.
It was happenstance that the Chamber of Commerce had their building appraised and put on the market in order to find a more convenient office space.
The city organization left its location at 106 N. Evers St. and moved to 118 W. Reynolds St. Both offices are within close proximity, just near the roads' intersection.
Brown and Druen didn't waste any time and purchased the vacant property.
Upon completion, the building had initially been dedicated in January 1994.
Just shy of 12,000 square feet, it stands two stories high, holding multiple offices, a stairwell and an elevator.
While Miller said it was more space than needed for the Chamber, the business partners feel it's a good size for their ideas.
They plan to renovate it to accommodate a music studio, conference rooms and space for occasional events, such as weddings.
"We'll definitely be open for local artists, and to have the ability to completely write your album with you, produce it, record it, mix, master, do all of your photos and cut music videos," explained Brown.
Another feature waiting to be unveiled is the building's rooftop.
Overlooking downtown Plant City, it is expected to become a platform for music artists and producers, alike, to share ideas and their skills.
Miller has future endeavors for the Chamber of Commerce as well.
Miller said that its current residency is a temporary stay until a more convenient spot can be found in the downtown region.
In fact, the Chamber of Commerce's current office was once inhabited by the Plant City Economic Development Corporation.
She said that the ideal workspace will span anywhere from 3,000 to 3,500 square feet.
Until that comes to fruition, Miller remains patient and optimistic.
"I feel the timing couldn't be more perfect," she said. "I have this vision of becoming the chamber of the future. Having an even more efficient space, and a modern space, is going to be more reflective of who we are as an organization."