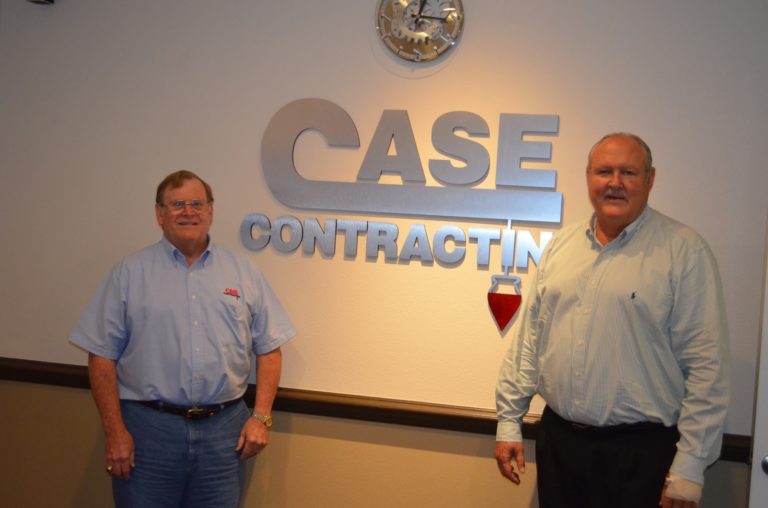 If you've driven through Plant City, you've undoubtedly come across a building erected by Case Contracting Company.
Case Contracting Company has established itself as one of the most respected businesses in the industry. It is now celebrating 35 years of service to the community and the state its owners hold so dear.
The brainchild of Charles "Chuck" Christensen, Case helped shape not only Plant City, but Florida as a whole into an iconic destination for locals and tourists alike.
Christensen was born and raised in Miami Springs where he grew up racing cars, fishing in the Everglades and learning from his father, who was an electrician. After receiving his degree in Civil Engineering Technology, he spent the next 14 years working his way up from a project engineer to Vice President of Estimating at Frank J. Rooney. He became an expert in his field and when the time came to start his own business, he knew just where he wanted to plant his roots.
"Plant City is a great place," Christensen said. "Of course it's changed a lot from when we first came. Nettie (Berry Draughon) and Sadye (Gibbs Martin) and others, there were just a lot of great people here… if there was a high school event going on, a football game, basketball game or whatever it was on Al Berry and Ercelle Smith's radio show. You would go in people's house and they'd have it on. That's just the way the whole town was."
It made sense economically as well. Plant City was right along I-4 and just minutes away from the I-75 and I-275 connections. Building Case on Turkey Creek Road put them at Florida's main artery, easily branching out to the entire state with just a quick hop onto the interstate.
Over the years, Christensen has been president of Kiwanis Club and ABC, served on the Chamber of Commerce's board several times and helped do repairs around town on beloved destinations like the train depot. He loves his town and said he is very pleased to call it home.
Before they erected the building at Turkey Creek Road, Case began with a plan table in Christensen's garage. He had made many contacts in his former occupation including Harvey Teitelbaum, a concrete sub from Chicago. Together they were able to land their first job, building a Marriott in Orlando. Soon after he reached out to Tim Walker, who he had gotten to know during his former career. Walker said when presented with the opportunity to be a part of Christensen's vision, he jumped at the chance and quickly came on board.
"He was known for his work ethic and his honesty," Walker said. "We both believe that if you're going to do anything, do it well. That's something everyone in our company lives by."
After working side-by-side for so many decades, Christensen moved to the position of CEO in 2008, making Walker president of Case.
Over the years they built some of the most beloved buildings in the state. In Plant City, Case built the old First
Baptist Church on Palmer Street, the stage at the Florida Strawberry Festival, Plant City Stadium and the local Walmart.
Their partnership with Walmart shot Case into retail. They are responsible for building and renovating Walmarts all across the state. They've built schools, heath care and government buildings, churches and colleges.
Plant City Stadium also opened the door for Case to branch into sports. Soon it tackled a variety of other stadiums like George M. Steinbrenner Field in Tampa, Hammond Stadium in Fort Myers, Roger Dean Stadium in Jupiter and more.
"You're only as good as your last job," Christensen said. "You can be in business for 50 years and on your 51st year do a bad job, and that's all you'll be known for. Make every job your best one."
That work ethic is something Christensen requires of all of his employees. In return, they pour everything they have into their staff. They treat employees like family and as a result have an extremely low turnover. Most stay with the company an average of 14 years with many making it a lifetime career.
Christensen said he tries to hire young employees so he can develop them over the years. He prides Case on having a good mix of "youth and maturity," which he said will carry the company on as the younger workers age and begin to take over the leadership roles in the business.
"Your people are your greatest assets," Christensen said. "Case is a service company, we don't have machines in our warehouse punching out what we're selling. Our employees, our people are our assets. They are Case."
Even though Case has struggled during the multiple recessions the country has undergone, it has always persevered thanks to the expertise of its leaders and the dedication of its employees.
"We've never owed anybody any money," Christensen said. "We never bought anything we couldn't afford. That's something not a lot of people can say. When things get rough, the contractors that usually find themselves struggling are those that are still making payments on equipment or loans even though they are struggling to find work."
Case has left a lasting impact on Florida over the last several decades and Walker said they have often been asked to expand out to other states. However, Florida is their home and they agreed it was diverse enough to hold their interest.
"We came from a very large commercial contractor," Walker said. "We don't want to be the biggest, but we want to manage and be the best at what we do… We are not Gucci shoed, we don't fly in a Learjet. We give everybody the quality they deserve."