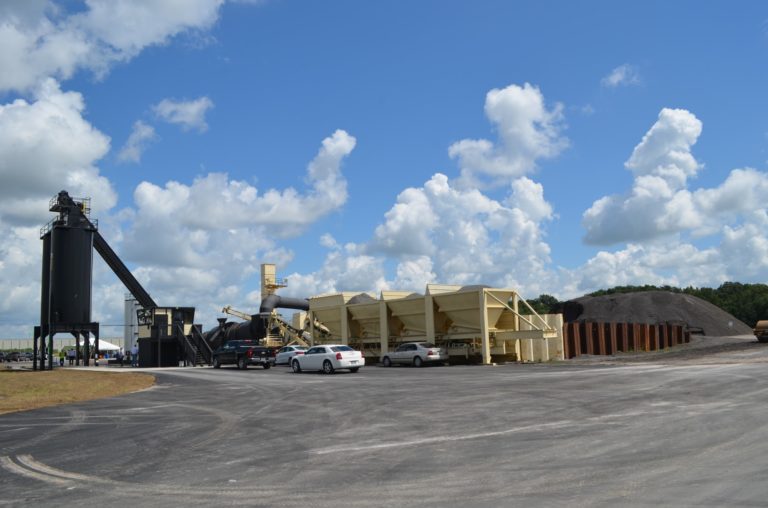 The companies newest site went operational Aug. 16
Nearly ten years and a few million dollars after purchasing 43 acres of land on Jim Johnson Road, C.W. Roberts opened its fifth asphalt plant Aug. 16. in Plant City.
C.W. Roberts kicked off its opening with a tour of the facility led by company president Bob Flowers.
The plant creates hot mix asphalt, one of the strongest, most flexible forms of the compound and the most commonly used asphalt type
in the United States, often used for road projects. The plant currently uses two silos, each holding about 200 tons of asphalt and taking an hour each to fill. The plant, Flowers said, is capable of producing 1,000 tons of asphalt per day and 200,000 tons per year. It's also capable of running around the clock, he said.
"When we have customers and it's not broken down, we run it. We expect this plant to serve about 60 to 70% outside customers where some of our plants are 90% internal."
Flowers said being an environmentally friendly facility is a priority. The plant is currently using diesel and burner fuel to heat its mixture, but will be switching over to natural gas in the coming weeks.
"We hope to switch over to natural gas. It's not cheaper, but it's
cleaner," Flowers said. "From a maintenance standpoint we like it better."
According to Florida Public Utilities, the plant should have natural gas connected within the next few weeks.
The plant is also capable of using up to 45% recycled material in its mixture. When resurfacing a road,
Flowers said, the company reuses the milled road in new mixtures.
C.W. Roberts also has plants in Tallahassee, Freeport, Panama City and Wildwood. The company produces asphalt for sale, and uses it in its own paving and road construction products.
On day one, the Plant City location already had its first customer: the City of Plant City. C.W. Roberts in late June was awarded a contract for resurfacing 7.8 miles of city-maintained roads as part of the city's ongoing efforts to improve roadways.
Michelle Davis, communications for C.W. Roberts, said Plant City was chosen because of its location between Tampa and Orlando and the proximity to Interstate 4. Davis said the company expects its Plant City operation to serve all their customers within a 50 to 100 mile radius as it grows. While there are currently two silos on the property, the plant can hold up to six, with a third to be added within two years.
"This plant could fill six silos and we have two," Flowers said. "We could see this thing having six silos in 10 years."
While the plant could be operating at its peak in 10 years, it was nearly 10 years ago that the idea for a Plant City operation was almost lost. C.W. Roberts originally purchased the land in 2009, but with the economic downturn, plans to build on the site were abandoned and the land was put up for sale. Flowers, who has been president of C.W. Roberts since 2013, said he saw the site's potential and took it off the market in 2014. His company has since invested about $3 million in the site.
Flowers said the Plant City Economic Development Corporation was an essential component in getting the plant operational so quickly.
A project of its size could normally take at least 12 months he said. Thanks to the Plant City EDC, they were able to be up and running six months after finally breaking ground.
The early relationship with the EDC, Davis said, has also facilitated the company's community involvement. The company is now a partner in the EDC and making more efforts to be involved civically.
"It's a full investment in the community," Davis said. "We're really excited to be here. We'll be working more closely getting involved with the chamber of commerce and looking for more organizations we can associate with."