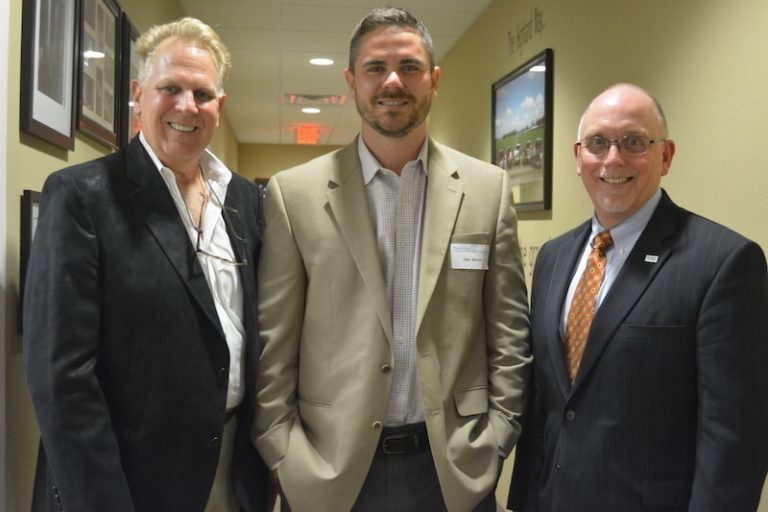 From County Line Road to Thonotosassa Road, Plant City hopes to continue its trend of business growth in 2016.
For the City of Plant City, 2015 was a year of marketing the Winter Strawberry Capital of the World as one of the most desirable business locations in Florida.
The year saw rapid business growth, especially along the County Line Road corridor. Central Florida Development made a capital investment of $20 million to build two 100,000-square-foot building in this area. It has since leased 90,000 square feet to three different companies.
Jeff Lucas, who works in commercial real estate for Central Florida Development, said that Plant City's location near Interstate 4 is one of the main elements that makes the area great for business.
"It's a combination of things," Lucas says. "You can reach over nine million people within two hours. There's a good quality and good quantity of labor available."
Business growth will again be a main focus for the City of Plant City in 2016. Along with the newly-formed Plant City Economic Development Corp., Greater Plant City Chamber of Commerce and the Florida Main Street Program, the city plans to grow manufacturing corridors, as well as revitalize downtown, by attracting new companies to the area and maintaining and assisting existing ones.
"The pro-business atmosphere of the city … they make it a great place to do business," Lucas says.
COUNTY LINE ROAD CORRIDOR
In January 2015, Central Florida Development began building its first 100,000-square-foot building along the County Line Road corridor.
Since its completion, Central Florida Development has leased 15,000 square feet of the building to Fitlife Foods, a company that produces healthy, prepared meals. The expansion of Fitlife Foods from Tampa into Plant City has created 100 new jobs. Besides leasing to Fitlife Foods, Central Florida Development also has leased 60,000 square feet to Appalachian Insulation Supply Inc., and 15,000 square feet to SparkleSkirts.
Central Florida Development then began working on constructing a second 100,000-square-foot building in October, located at the corner of County Line Road and U.S. Highway 92. It is expected to be completed in February.
"We've been very fortunate," Lucas says.
Central Florida Development has begun work on is next project: the Central Florida Commerce Center, a business park that will be located at Rice Road and County Line Road.
"It's one of the hottest industrial quarters in Central Florida," City Manager Mike Herr says.
The City of Plant City also sees the value of the County Line Road corridor. It has invested $3.5 million to bring utilities and water and sewer expansions to it.
"The city is planned very well," he says. "The lack of infrastructure from standpoints of utilities is not an issue. New development will pay for itself."
But County Line Road isn't the only area of Plant City that's seen growth in the last year — and one new organization might be the reason.
ECONOMIC POWERHOUSE
In September, Plant City's Economic Development Corp. passed its bylaws and became an official organization, after local business leaders came together in June. By the end of 2015, the EDC had over 30 voting members, six general members and nine executive committee members. The organization named Jake Austin as its president and CEO.
"We're off and running," Randy Larson, the EDC's chairman, says. "This is a very pivotal year for us. There's a lot to do for it to be a success."
"I've been impressed with the level of enthusiasm from board members already," Austin adds. "It's been really fun."
Through partnerships with the City of Plant City and the Greater Plant City Chamber of Commerce, the EDC has worked diligently to attract new businesses to the area. At the EDC's first meeting in November, a number of businesses, including Hillsborough Title Company and Quality Grassing Services, announced that they would either be launching new companies or expanding existing companies in Plant City.
In 2016, the EDC plans to grow and retain its membership, in addition to forming a workforce committee. Austin said that at the next EDC meeting, which will be held Monday, Jan. 11, at Stingray Chevrolet, more businesses will announce expansions for the first wave of 2016.
As businesses continue to pop up along the County Line corridor and near I-4, Plant City's Historic Downtown — another primary focus — remains largely untapped.
UP NEXT FOR DOWNTOWN
In 2016, the City of Plant City plans to continue to promote new business growth in Historic Downtown.
In 2015, the city's Code Enforcement department, led by Tray Towles, encouraged business owners to maintain the outsides of their storefronts. In May, Towles and his department members, Tina Barber and Omar Cortez, also told business owners about the city's vision for Historic Downtown. Since then, store owners have painted the outsides of their buildings and made their own improvements. By maintaining a polished exterior in Historic Downtown, the City of Plant City hopes to attract other businesses to the area.
"We're trying to facilitate more and regulate less," Herr says.
The city is marketing a family-friendly downtown district by promoting the Robert W. Willaford Railroad Museum, local shops and events through the chamber.
"Hopefully it helps merchants with their existing business," Herr says.
In the upcoming year, Herr hopes to see more development and growth from the efforts of the City, combined with those of the EDC.
"I think that 2016 is going to be a great year," Herr said. "We're going to be the friendliest place to do business in Central Florida. It's Plant City — right now."
Contact Emily Topper at etopper@plantcityobserver.com.
WHAT'S COMING?
HOTEL STAYS: Site plan work is underway for an 88-room Hampton Inn, located across from the strip of restaurants, grocery stores and gas stations along Thonotosassa Road.
The inn will be 50,000 square feet and is expected to create about 24 new jobs. Construction, estimated at $7 million, will begin in January 2016 and will take about a year to complete.
SWEET TREATS: Toufayan Bakery, on U.S. Highway 92, will be expanding its existing facility by 150,000 square feet. The additions to the facility are expected to create between 100 and 200 new jobs.
"That's a huge investment," City Manager Mike Herr said. "We're very appreciative."
NICE WHEELS: Cody Talbert Distribution, a wholesale RV parts and accessories supplier, is adding 7,500 square feet to its existing facility at Airport and Sydney roads. The expansion is expected to create 30 new jobs.
ONLINE
To see what the City of Plant City, the Plant City EDC and more are doing to attract businesses to the area visit PlantCityRightNow.com. (You'll recognize many areas of the Winter Strawberry Capital of
the World in a promotional video on the home-page.)