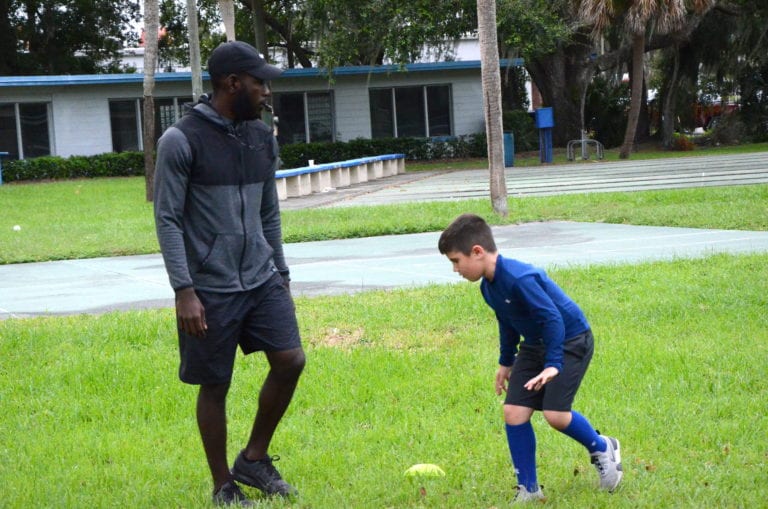 Coach Josh Celerin is leading a speed and agility program in Plant City for youths in grades 3-12.
In almost any sport you can play, it always helps to be faster than your opponent.
Plant City kids are learning how to get that edge in one of the Planteen Recreation Center's newest programs, an after-school speed and agility camp led by Josh Celerin.
"Agility translates to every sport, so I wanted to pass on my knowledge," Celerin said.
For one hour each Wednesday, kids in grades 3-12 come to the rec center's outdoor area for a slew of drills and workouts designed to get them stronger and faster. They'll work on lateral movement and change-of-direction drills, jump hurdles, work on acceleration and start-stop movements, multitasking and more in a group format before going to more direct, individualized coaching.
"It's more of a general thing, but I do ask kids what sports they play and things like that," Celerin said. "When we get to 1-on-1 coaching, I set them up to translate to their sport whether it's soccer or football or lacrosse… I try to translate it to their respective sports."
Celerin's background is in football. After playing at Jacksonville University, he spent some time in NFL training camps and later signed with the Winnipeg Blue Bombers of the CFL. He went back to his hometown of Brandon to pursue coaching full-time in 2017 and has coached defensive backs at Plant High School. He also runs an Under Armor Under the Lights flag football program in the Brandon/Valrico/Riverview area.
It's the first time Celerin has hosted a program like this at a recreation center and in Plant City. It's not the first time he's run such a camp, having hosted a similar program at Christ the King Catholic School in Tampa. Celerin worked with PCRPD recreation supervisor Julie Garretson to bring the camp to Plant City and they officially started with a free trial day on Oct. 23. The program's first full day was Oct. 30 and will continue through Dec. 18, which will be a personal record day for all campers.
"Every week, someone's coming up wanting to try it," Celerin said.
Though the camp has already gotten into full swing, there's still time to register for the upcoming four-week period that will begin Nov. 27. The cost is $40 per athlete for the four-week block.
"Really seeing the progression, how kids progress from day one, seeing that every day and how they take what they learned from me," Celerin said, "that's rewarding whether it's a short amount of time or a long period of time."
The rec center is located at 301 N. Dort St. Call 813-659-4256 for more information.