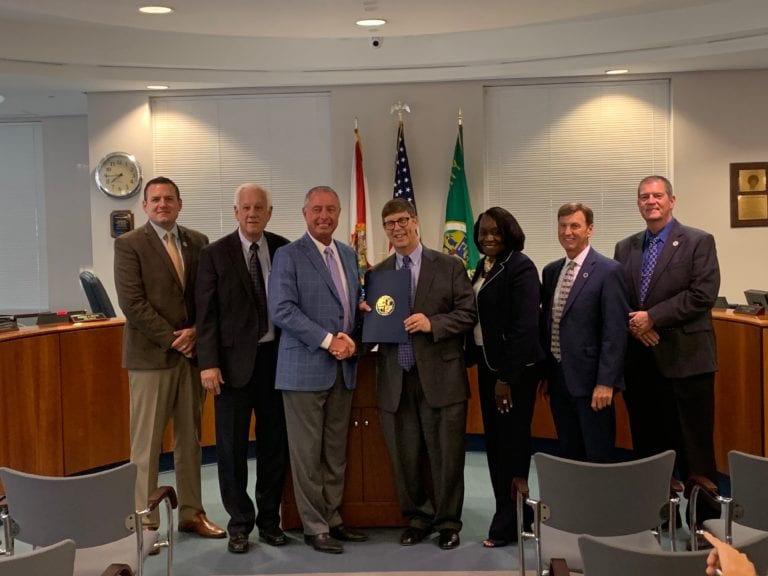 City Attorney Ken Buchman received the Ralph A. Marsicano Award and a city proclamation following years of model service for the city of Plant City.
Kenneth Buchman, the City of Plant City attorney, received a prestigious award from his peers last week for his significant contributions to local government's practice of law.
Buchman was awarded the Ralph A. Marsicano Award by the City, County, and Local Government Section of The Florida Bar at the 38th annual section seminar in Orlando. It took him entirely by surprise and his praise continued Monday evening when the Mayor of Plant City and the city commissioners shared their congratulations and gave Buchman a proclamation for his hard work.
Buchman has served as the city attorney since 1991 when he followed in his father's, Paul Buchman's, footsteps. Paul had been the city attorney from 1949 until 1991. His son has proven over the years that he is making just as positive an impact on the future of Plant City law as his father did before him.
"As soon as I heard last week of the City Attorney's award, I immediately called him to congratulate him and I told him how much I knew his father would have been proud of him," Commissioner Mike Sparkman said. "His dad, even before I came on the commission, was my personal and corporate attorney. He was a part-time city attorney for Plant City and served in that capacity for years…To be around him and learn from him and listen to him was a God-given gift to me."
Sparkman commended Buchman for the "well-deserved" award and reiterated how proud he knew everyone was for his accomplishment.
That sentiment was echoed by all at the dais. When Mayor Rick Lott read the proclamation in Buchman's honor to the audience, all of the commissioners gathered around Buchman for a photo. Commissioner Bill Dodson even enveloped him in a hug before heading back to the dais to continue the meeting where he said he was honored to consider Buchman both a friend and a colleague and to have had the opportunity to serve together with him for so many years.
The award was named after Marsicano, who was a Tampa city attorney for 28 years and a general counsel for the Florida League of Cities for 30 years. The Ralph A. Marsicano Award is the oldest and most coveted award given by the section and Buchman will now add it to the long list of accomplishments he's acquired over his years of service to the city.
Vice Mayor Nate Kilton said Buchman's humble nature was on full display throughout this process. He doesn't seek the limelight and has quietly played a crucial role behind the scenes as the city leaders have steered Plant City toward new horizons and new goals. Without his guidance much of what has been accomplished over the years would have been impossible.
When asked if he had any words, Buchman merely said he was very humbled by the recognition from both the city and by receiving the Ralph A. Marsicano Award.
"It was really a great honor just to be associated with him and on behalf of the city, this is more than I could ever thank you for," Buchman said.
Buchman is just one of many city employees to have received major recognition over the past few years, as was brought up by Commissioner Mary Mathis. She said Buchman just proved that Plant City is full of talented individuals and thanked him once again for helping them be able to so efficiently do their jobs.
"I can tell you, Mr. City Attorney, we are so proud and honored to be able to recognize you," Lott said. "Your job is to always make sure that we do things the proper way and on the legal side of the way and you take our thoughts and ideas and working with staff and so forth and you make a bill or resolution out of it that we're able to approve and feel good about that we did what's right for our community. We definitely appreciate you always sticking to making sure we do the right thing. Obviously your peers throughout the state of Florida recognize you with absolutely the highest honor you could ever receive in your profession."