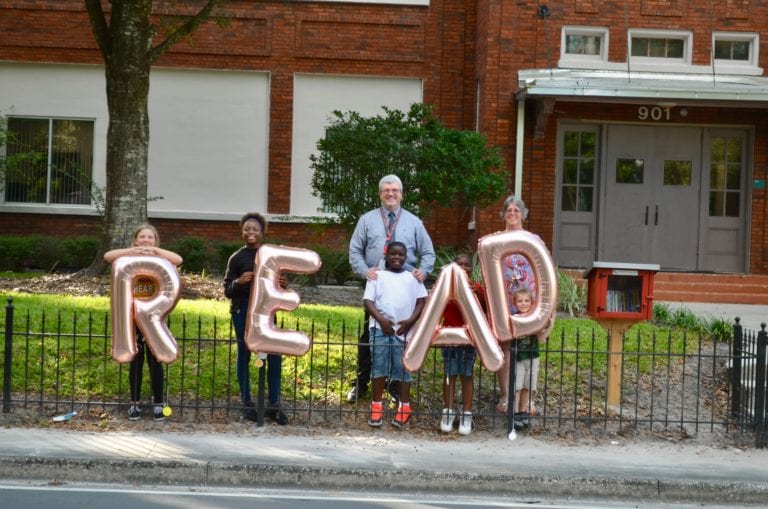 Burney Elementary School held a grand opening for its new lending library on Oct. 24.
Families of students at Burney Elementary have a new amenity to further education outside of the classroom.
Thanks to the efforts of teacher Sara Kincaid, the school was able to obtain a grant to purchase a lending library, which it constructed to abut the front wrought iron fence that acts as an impressive, yet strict, barrier between school grounds and South Evers Street.
A mirror of the school, the little box resting atop a solitary wooden pole is painted a deep red with a gray "roof." Though it's nestled behind the iron bars, it can easily be reached by parents and students alike who are walking along the sidewalk in front of the school.
The hope, principal Alan Black said, is it will encourage families to take the habit of reading into their home and not just leave it as something students "have to do" inside the classroom.
"Basically we have a lot of walkers that go by the front of our school," Black said. "Its one of the ways we can give back to the community. Our hope is either a student or their parent will stop and take a book home with them and read it. Then they can return in and get another one. It's an opportunity for us to develop a love of reading with our kids. If they read at home with their parents, or even if they see their parents reading, it goes a long way to encouraging them to get into the habit themselves."
The little lending library is more than just an extension of the school's library system. Inside is a trove of books ranging from early readers, like a kids' puzzle book, to advanced stories, like Divergent. There are even several adult books hidden among the colorful assortment of children's novels in hopes a parent walking by will find something that rekindles their love of reading as well.
The library was built approximately two weeks ago, but the school held an official grand opening of the amenity during its parents' night event on Oct. 24. Black said the grant allocated an initial bundle of books for the library but that several of the teachers are dedicated to ensure it remains stocked for the public. Kincaid's class will monitor the library and work toward keeping it ripe with interesting and varying publications.
"We really wanted to promote reading with the community," Emily Lee, a teaching partner with Kincaid, said. "There's a lot of foot traffic here with families. If they take a book and bring it back, great. If not, then hey, they've got another book at their home that hopefully their entire family will enjoy. We want people to read. That's the goal of this and Sara really went out of her way to get this for the school."
Lee echoed Black's urgings for parents to set an example for their children by taking time to read at home. Saying it's "the number one thing" a parent can do to improve their children's literacy, Lee said they hope the little library will help spark a love of reading for their students and help combat the mindset that reading was only something you do in a classroom and not something one can enjoy in their free time.
Black gestured to a set of windows on the front of the building and said he has spent several long moments over the last few weeks in his office watching as families have paused on their walk home from school to peruse the collection in the tiny red box. From his window he's seen smiles light up on the faces of some of his students as they pull out a small colorful book and realize they're able to take it home with them, no questions asked.
The lending library may have been erected in the ground mere weeks ago, but it seems it already has found its home with the Burney Broncos.