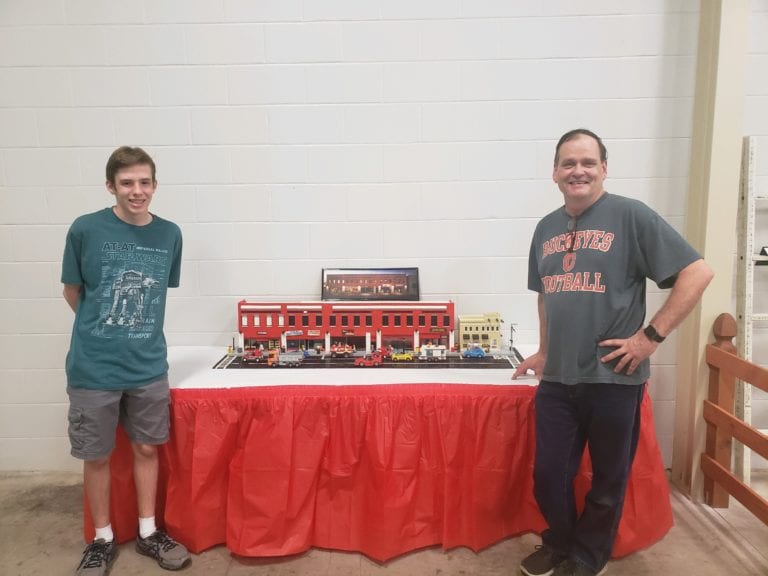 The beloved new and used LEGO store has begun recreating downtown Plant City with LEGOs.
One thing that makes Plant City unique is the dedication and genuine love of its residents for the community.
Whether that's reflected in the more than 2,000 volunteers that help out at the festival every year or the way the community gives back time and again, it's evident there's something a little different about the strawberry town.
Hometown pride runs deep in Plant City and you can normally spot locals sporting strawberry attire, wearing their high school colors or decked out in merch from local mom and pop businesses.
That adoration for the community led Greg Williams, owner of Brick City Bricks, 107 E. Reynolds St., to begin a project that will more than likely take years to complete. The first stage, however, will be unveiled during the festival for the entire community to see. 
A LEGO mastermind, Williams has carved his place in the community with his eccentric and playful store. If you're on the hunt for a unique set or minifig, Brick City Bricks more than likely either has it or knows where to get it. They offer birthday parties, family build events and are always coming up with new ways to draw the pubic downtown.
Williams frequently references his motto for business: "If you bring people downtown, everyone benefits." He spearheads community shopping themed days, partners with Plant City Main Street and always offers suggestions for other places to shop and eat in the downtown core.
His love and commitment to downtown is now visible. A massive LEGO recreation of the block of downtown Reynolds Street that Brick City Bricks calls home is now officially complete. Every business on that strip has been meticulously reimagined in matching LEGO bricks.
"A local resident came in with one piece of the building done and we thought, 'Hey, that's a great idea,'" Williams said. "So we continued to work on the building and then began to grow it. This student, Alex, is my in-house master builder — as I like to call him — and he volunteers at the store a lot. He helps us with events and all kinds of things and for the last about seven or eight months, he's been working off and on bringing this street to life."
It's a mirror image of the businesses on his block. Williams said the hope is to one day expand it to include all of historic downtown. In a way, they're recycling old pieces and repurposing them to bring Plant City to life.
It's already a massive undertaking and part of the problem with continuing is its sheer amount of space. Currently, the only place the street could fit in the store is if Williams puts it on display in the front window. He said the hope is someone downtown with more room will agree to display the creation in its entirety so that those who come downtown have a way to see the unique creation and get a visual idea of what all of downtown has to offer.
Brick City Bricks will be at the festival in the Stadium Exhibit Hall in booth 646. The booth acts as a miniature of their store and will feature all kinds of minifigs, sets, bricks, T-shirts and even a new strawberry build. Those looking for more unique offerings can head downtown to see their full inventory.
The model of downtown will also be on display at the festival in Neighborhood Village.