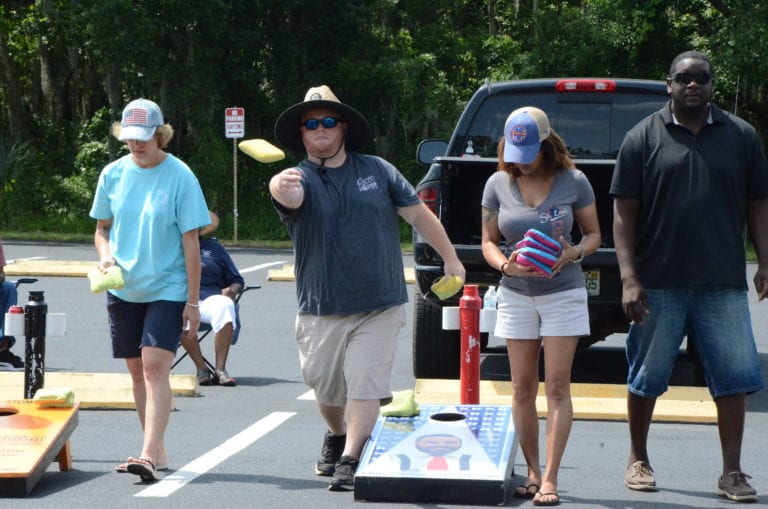 The event took place May 4 at the Hillsborough Community College campus.
It's hard to beat a game of cornhole on a sunny day, and the Boys and Girls Club of Plant City delivered on that front the morning of May 4.
The club hosted its first cornhole tournament at the Hillsborough Community College parking lot directly next to Ellis-Methvin Park that morning, taking advantage of clear skies before noon and managing to finish, despite the eventual rains to raise nearly $7,000 to help cover its summer field trips and programming. Twelve teams participated and the dynamic duo of Drew and Paul Lovelace took first place and a $200 cash prize. Ryan and Christine Schwartzkopf placed second and won $100 for their efforts.
The event was sponsored by Noon Rotary Club, Hillsborough Title, Hillsborough County Sheriff's Office, Buddy's Home Furnishings, STAR Distribution, Hillsborough Classroom Teachers Association, Bonnie and Clarence Carr and Jarrett-Scott Ford.
Team 1
Samantha Foster/Tye Williams

Team 2
Maverick Lawrence/Shane Robinson

Team 3
Stephanie Anderson/Elizabeth Normore

Team 4
Cassandra Carreon/Miseal Carreon

Team 5
Yolisma Machado/Aaron Machado

Team 6
Sherry McCullough/Jessica McCullough

Team 7
Dennis Fogarty/Logan Fogarty

Team 8
Jason Roberts/Ryan Zacher

Team 9
Jason Goff/Regan Goff

Team 10
Tim Steiner/Doug King

Team 11
Drew Lovelace/Paul Lovelace

Team 12
Ryan Schwartzkopf/Christine Schwartzkopf