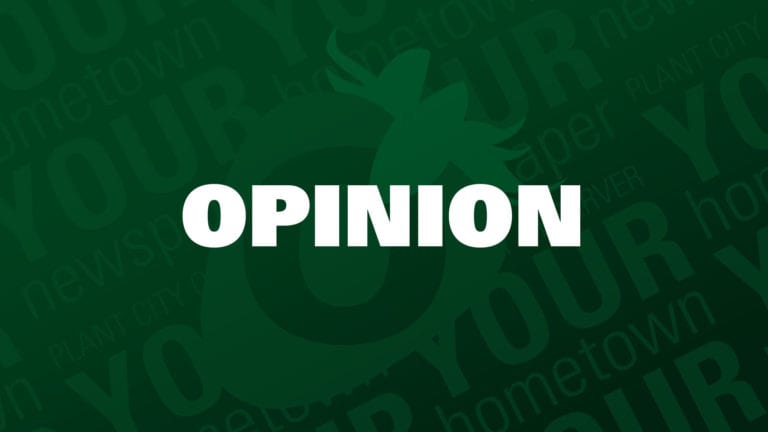 Awarded a building that would become known as the John R. Trinkle Center, the Plant City Campus of Hillsborough Community College lacked just one thing: $800,000 to furnish and equip it.
In 2004, a group of active community leaders recruited to raise the funds sat around a long table in the Campus Administration Building's conference room. The room became quiet after the challenge before them had been explained.
Into the silence came the voice of a man who had served on the 1968 Plant City Chamber of Commerce committee to convince the college to establish the campus: Bob Edwards.
"Are there any other needs beyond the community center on the campus?" he asked. "If we're going to raise $800,000, why not raise $1.5 million? Why not $2 million? Why not $2.5 million?"
A dozen heads around the table began to nod, responding to the vision of a man who had played similar leadership roles so many times in the city he loved. From that vision, in the next 18 months, $1.7 million dollars were raised; from those donations came matching funds of $800,000 from the state. Who knew that Bob Edwards would name the $2.5 million total raised in the campaign before it even started?
Bob's vision should not have surprised anyone, especially if they knew the tale of a much earlier example of his leadership. That story had a theme of fighting against great odds and winning, and it established his reputation for taking on issues he felt he were right and turning public opinion around on them. In those years, our Plant City Chamber of Commerce was located a mile east of downtown at the apex of Baker and Reynolds streets. In a time when our city was in danger of losing the identity of its downtown, and when we did not yet have Main Street to defend our downtown core, Bob proposed to his fellow Chamber Board members that the building be moved downtown. The first vote was 14-1 against moving it. For 18 months, Bob moved quietly through his colleagues, one-on-one, gently but persistently urging, cajoling and explaining the importance of locating the chamber downtown, as a linchpin for the maintenance and development of our core. In the end, another vote was taken, and a majority of the Board voted to move downtown. Today, our Chamber stands proudly on Evers Street, in a prominent position in our downtown core, a tribute to the obstinacy of one man.
At 9:27 p.m. on June 24, the voice of that visionary, that fighter against great odds, was stilled.
Bob's ancestors came down before the Civil War from Georgia to rural Lafayette County. That county name was pronounced La-fayette, with the second "a" pronounced as a long "a," and Bob would not let you forget it. The Edwards were related to the Harts, for whom Jacksonville's Hart Bridge was named.
Robert Sydney Edwards was born July 10, 1929 in Miami. He was the first born to Ouida and Hugh Edwards, with a brother and sister yet to come. The family had deep roots in north Florida, but they were in Miami where his father was following his young career in banking. Within a few years, the Depression and subsequent bank carnage had unfolded and the family moved back to its ancestral roots in the Big Bend town of Mayo. With jobs hard to come by, Hugh took a job as a mail carrier. But with Bob's grandfather serving as the clerk of the Lafayette County court and other relatives in local administration, Bob got a close look at the law and how a community worked. From this immersion came Bob's early decision to seek a career as a lawyer and to work effectively in community organizations.
Awarded his Eagle Scout badge at 15 and tapped into the Boy Scouts' Order of the Arrow, Bob earned three letters in high school basketball. Popular and successful, he served as president of his high school council and graduated salutatorian of his 1947 high school class.
With his academic achievement he was admitted to the University of Florida, where he earned his law degree. World War II had just ended and, with the creation of the G. I. Bill, UF was growing rapidly. Soon, Bob found work with one of the construction companies building the many new buildings on the campus and his work "driving a typewriter" was so steady he was able to work his way through college. He also ran for Student Body President, losing out to future Florida House Speaker Terrell Sessums. This left him free to accept appointment as UF's first Student Traffic Court Chief Justice.
As the Korean War broke out, Bob joined the Air Force ROTC. He earned his bachelors degree and his commission as a second lieutenant in 1951, but his two-year active duty commitment was deferred when he was admitted to the UF Law School. He finished his law degree in 1953 as the Korean War armistice was signed and his active duty was again delayed. During that delay he took a job with an Orlando law firm, but he eventually served his active duty commitment doing legal work at England Air Force Base in Alexandria, Louisiana.
Bob met his first wife, Carrie Ann Chicola, in Alexandria. They married there in 1954, and, discharged from the Air Force, Bob returned to Florida a married man. Over the years, Bob and Carrie had six children: Brian, Lynne Simeone, Robbie Lea, Clare Hicks, Bobby Edwards, and Kay Brown.
Bob and Carrie came to Plant City in 1955, and he found work and eventually a partnership with his former law school classmate, Woody Liles. With an eye for local talent, the firm employed a young Jim Redman as a law clerk and present attorney Charlie White as a lawyer.
In 1957, he accepted a two-year appointment as Plant City judge. His law practice began to focus on family and business law, particularly insurance and banking. He became the attorney for Farm Credit of Central Florida and corporate counsel with the First National Bank of Plant City and this work provided him with one of the highlights of his career. In 1969 he was able to argue a case involving branch banking, First National Bank in Plant City versus Dickinson, all the way to the U. S. Supreme Court. The oral arguments for this case are on the internet and you can hear Bob's voice presenting the case there. Although he lost the case, in a few years the prohibition against branch banking was removed from banking law.
Beyond his productive legal career, Bob invested himself in many local organizations. These included Tampa General Hospital, the Hillsborough County Planning Commission, the Plant City Planning Commission, the Tampa Metropolitan YMCA, the First United Methodist Church, the Plant City Noon Rotary Club, the East Hillsborough Historical Society, the Gulf Ridge Council of Boy Scouts of America, the Greater Plant City Chamber of Commerce, the Plant City Junior Chamber of Commerce, and the Plant City Photo Archives and History Center. Bob was also a co-founder of the Plant City Downtown Luncheon Club.
With his infectious optimism and never-quit obstinacy, Bob was a formidable fund raiser for many of these organizations and blessed was any development campaign in which Bob was involved. In what he called his "last hurrah," in 2007 Bob teamed with close friend David Miller to lay the groundwork for the city to grow and annex land adjacent to the city limits. Only the beginning of a decade-long economic recession ended those efforts.
With his prodigious work with these many organizations came many awards, including Plant City's 1994 Citizen of the Year and the Photo Archives' Heritage Award in 2011. His local planning work with the Hillsborough County Planning Commission from 1959 to 1974 and the Plant City Planning Commission from 1977 to 1982 earned awards. The Plant City Jaycees gave him their 1979 Distinguished Service Award. In 1992, the First Florida Bank recognized him for his service on its Bank Member Advisory Board. Farm Credit of Central Florida awarded him a certificate in 1994. For his service on the Tampa General Hospital Board, both the County Commission and the Hospital Board gave him awards in 1999. The Timucua District of the Boy Scouts recognized him with its Distinguished Citizen Award in 2008. The Tampa Metropolitan YMCA honored him with its George Williams Award.
His work with Plant City's organizations and for his law firm crossed paths when he worked with Charlie White and Tom Poppell to preserve and restore the 1915 Wells Building. For the Wells Building restoration, for his roles in helping to revive Plant City's downtown and for providing guidance to Plant City Main Street's early efforts to have our downtown placed on the National Registry of Historic Places, he received a Historic Preservation Award of Merit from the Chamber.
Carrie became ill near the end of 1986 and passed away. During her last days, the Edwards family was blessed with a neighborhood caregiver and widow, Patt Mann, who knew Carrie from area garden clubs and had three children herself: Barbara Morris, Nancy Slagle, and Lynne Bisceglia. After Carrie passed, Bob and Carrie's children took a page from their father's legal playbook and engineered a merger between Bob and Patt. Bob and Patt always credited the children with fostering their marriage.
Bob and Patt were married January 31, 1987, and together they boasted of 22 grandchildren and 22 great-grandchildren.
Plant City will miss Bob Edwards, but those who follow him just need to mimic his standard, holding it high, angling it forward and refusing to allow it to fall.
Ed Verner contributed significantly to this article.