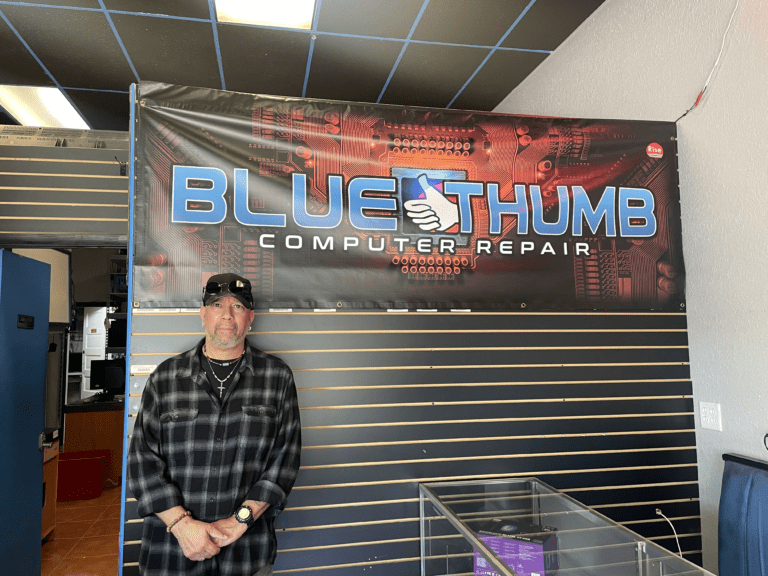 Jessie Frier is a familiar face in Plant City and while Blue Thumb Computer Repair was part of her family's legacy, it wasn't her passion. "My ex-husband and I owned the store together and when we separated I took over ownership but am not a computer person," she said.
She hired a team to run the store while she pursued her true love, art, as an apprentice at Vicious Vanity Ink but the universe had other plans.
"Most of my team found their dream jobs and moved on and there was no way I could stand in the way of their dreams," she said. "Each of them are super happy doing what they're supposed to do."
Frier started looking for a seasoned businessman to buy Blue Thumb and build it back to its former glory. Local real estate developer Allen Barrebbi connected Frier with his friends, Andre Nieuwendam, who was looking for an opportunity to open a business in Plant City. Nieuwendam and Barrebbi purchased the business from Frier and reopened the shop.
"Andre is such a great guy and I feel like the universe is putting everyone where they're supposed to be at," said Frier. "I'm excited for Plant City to have Blue Thumb back, its customers are being put in good hands and I can finally breathe a sigh of relief that they're going to be taken care of."
Nieuwendam, a former vice president of technology at American Integrity Insurance and owner of a computer repair shop in Tampa, knows his way around computer hardware and software. He's been in the technology field since 1979, when, during a 10-year career in the Army, he worked on a network that would one day become the Internet. When he saw Blue Thumb's 4.8 rating on Google, he knew he could continue its legacy of providing superior customer service.
"Jessie and her ex-husband built up a highly-rated business with a local following and I hope to keep that tradition going," said Nieuwendam. "We're not raising prices."
Computer technician Rylee Baxter, who's been working at Blue Thumb for a year, will continue to be a familiar face at the shop.
"We're really going to put our hearts in this business," he said. "We've taken a leap of faith and pray the Lord will bless us as we continue to carry on the legacy here."
The shop offers onsite PC and Mac computer repairs, networking and upgrade service to local businesses and home PC users, remote support and hardware recycling.
Blue Thumb Computer Repair, located downtown at 116 West Reynolds Street, is open Monday – Friday 9 a.m. – 6 p.m.
For more information visit www.bluethumbpc.com or call 813-754-8486.