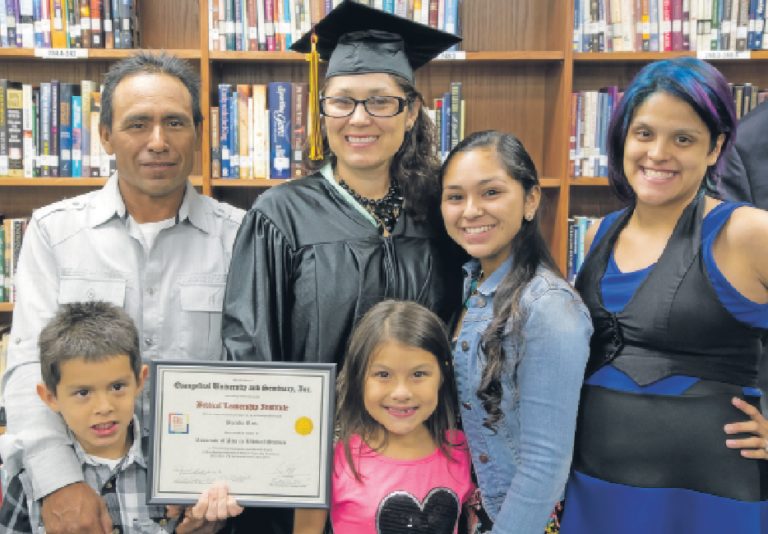 This spring, pride and relief will abound at graduation ceremonies throughout the Plant City area. But not all of the graduates are in their teens or early 20s.
Seven adult students at the Biblical Leadership Institute, located in Historic Downtown, finished up their certificates and degrees in Biblical studies this year. They were celebrated at an April graduation ceremony.
These students were the first whose degrees are from BLI. Though the institution began offering classes in 2007, as Evangelical University and Seminary, its name and some services changed last year, when Dan Morris came on board as president.
"We're trying to keep the good things we had, plus we're trying to offer new things and connect with the churches more," Morris said. "We're looking at a great future with what we're doing."
Students at BLI can earn a one-year certificate, two-year associate's degree, bachelor's degree or master's degree. Academic dean Wallace Cont said that a lot of students choose to take a few courses for credit, or audit them, just for the sake of learning.
"The key really is the knowledge, the information that they're gaining," Cont said. "Our whole emphasis is not to bring students in from a distance, but really to minister to the greater Plant City area."
Brenda Ruiz is one of the graduates who was honored last month, though she earned her Bible certificate in 2014.
A few years ago, Ruiz became a translator at First Baptist Church and a leader of Spanish Sunday school. She decided to start taking classes at BLI, then Evangelical University, to improve her ministry and leadership skills.
"It's about being prepared to give an account of the hope that's in us," Ruiz said. "I might not be able  to go to the big colleges, but I still want to be equipped to have an impact in the community."
Now Ruiz attends a fully Spanish-speaking church with her husband, who does not know English well. And her leadership in the Christian community has increased.
She volunteers with one of Tampa Bay's top Hispanic Christian radio shows, Genesis 680 AM. Eventually, she hopes to have her own radio show for Spanish-speaking women.
And she isn't finished with her studies at BLI.
"I'm taking more classes because I just want to be more knowledgable," Ruiz said. "I want to be able to minister to anyone. People have a lot of questions out there, and this way, I'm able to help them."
2014-15 Graduates
Michael Fredette, certificate
Randy Holeyfield, associate's
Bruce Manning, bachelor's
Russell Pondo, master's
Brenda Ruiz, certificate
Luisa Self, master's
Robert Stone, associate's
Contact Catherine Sinclair at csinclair@plantcityobserver.com.