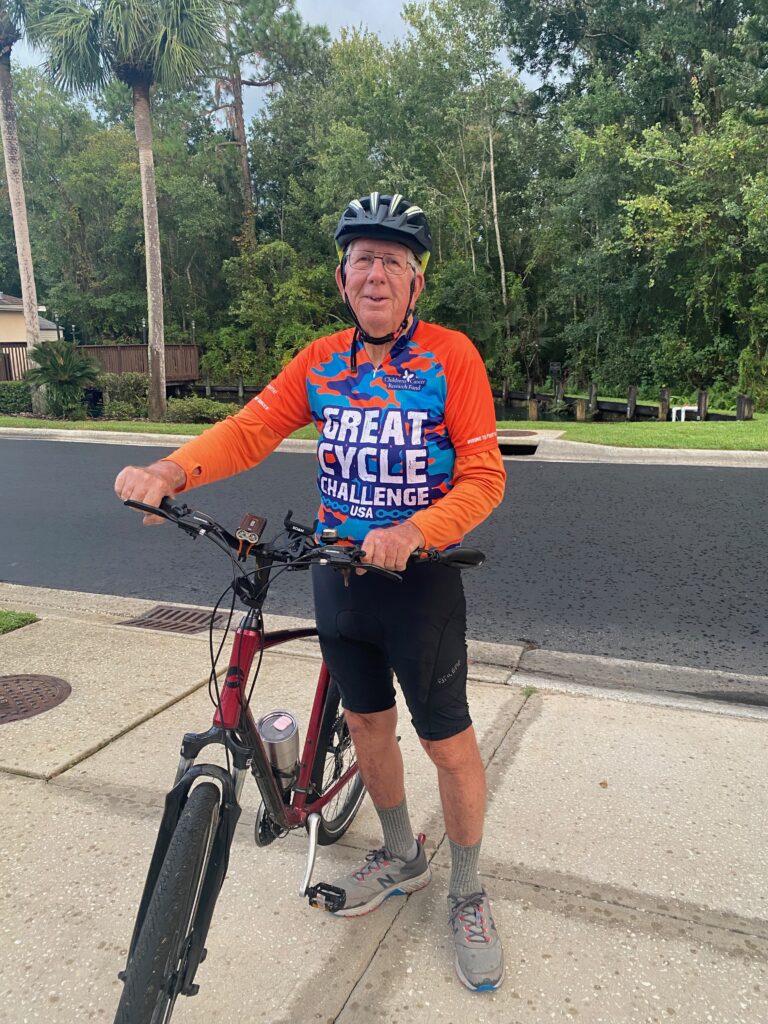 A Plant Citian is biking 1,000 miles this month to raise money for children's cancer research.
Once again James Fuller is committing to a rigorous biking goal to raise money for children's cancer research.
Last year the 81-year-old rode laps throughout Walden Lake — where he and his wife Julia live — and nearby bike trails and raised $2,815 for the research. He rode 952 miles in September 2020 and decided this year he would up the ante and commit to riding 1,000 miles in one month.
"Recently I've known someone who went to St. Jude (Children's Research Hospital) and had to have treatments," Fuller said. "He was in the ninth grade I think to start with and after three years he went into remission. Well I knew all about St. Jude and really it's just so amazing what they do there. I wasn't aware of all the research until I got involved with the Great Cycle Challenge. This is such a good cause and I'm really honored to be a part of it."
Essentially people can donate to Fuller's goal of riding 1,000 miles in one month and then track his progress via the Great Cycle Challenge website.
Residents of Walden Lake have undoubtedly witnessed Fuller cruising around the trails on his bike as he uses the network of paths to not only stay in shape, but work toward his fundraising goal.
Every two minutes a child is diagnosed with cancer worldwide and Fuller said children should be "living life, not fighting for it." He hopes that his participation in the Great Cycle Challenge will help not only raise funds for the cause, but will also spread awareness of the issue to the community.
"It's something I hope more people learn about and feel called to donate and support this cause in any way they can," Fuller said. "Anything to help the little children that have cancer. It's bad to see anyone that's sick, but especially children who are dealing with this. It's amazing how strong they are to stand up to all of this and go through the treatments and still stay so positive and hopeful. I just want to highlight this cause and help in whatever way I can."
You can donate directly to Fuller's cause at greatcyclechallenge.com/Riders/JamesFuller3/m. At the link you can also monitor Fuller's progress and see how he ranks in the competition. Currently he has raised $752.16 of his $1,000 goal. Fuller will be collecting donations until the end of September.
The Great Cycle Challenge website features stories from children that have directly benefited from this organization including Cash —a five-year-old sports junkie who was diagnosed with leukemia at three years old — and four-year-old Harriet, who has been battling leukemia since Aug. 2019.
You can also learn more about the challenge and how donations are used at greatcyclechallenge.com.