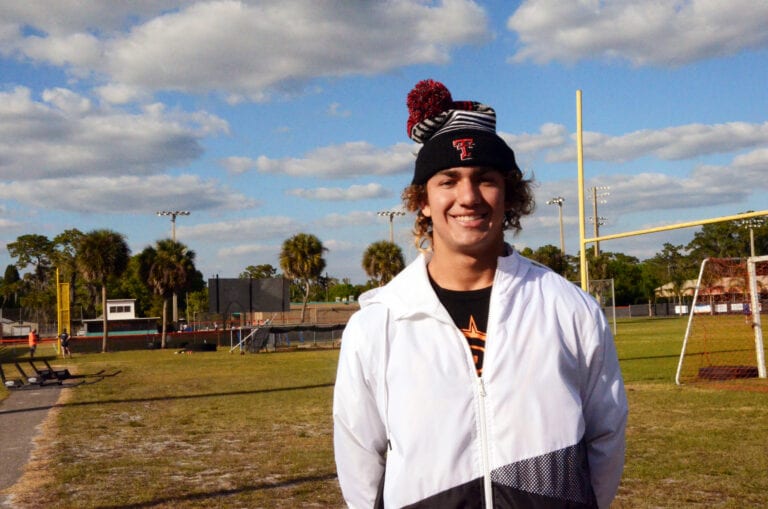 Shortly after committing to Texas Tech for football, Knotts set a new state record for the boys javelin throw at the Bob English Invite.
Last week was just about as good for Plant City High School's Jackson Knotts as it gets for any athlete. This is mostly a tale of two days, though.
On March 5, Knotts announced his commitment to join the Red Raiders football team after he graduates this spring. The Plant City senior is one of Rubio Long Snapping's top Class of 2021 long snappers, coming in at 12th overall in the nation and second to national No. 1 Rocco Underwood in the state of Florida. He's considered a five-star prospect in Chris Rubio's system.
Texas Tech was on Knotts's radar for some time, partly due to a friendship with punter Austin McNamara, and he said a recent visit to Lubbock sealed the deal in his mind shortly after he got off the plane.
"When I got there, it just felt like home," Knotts said. "It's a lot like Plant City, almost. Everyone's really nice. It's a huge college football town. There's 250,000 people in the town and they all love Texas Tech. No one talks about the Cowboys or the Texans — it's all about Texas Tech. That's what I liked about it."
On March 6, Knotts competed in the 2021 Bob English Invite in Lakeland and made another big statement. But this one was all physical — Knotts uncorked a 57.23-meter throw that not only helped him win the competition, but also set a new FHSAA state record by two meters.
"It felt pretty good," Knotts said. "I changed a few things — my grip a little bit, kind of my approach — and I knew I was ready for a good competition. It felt really nice. It came out of my hand really nice and I knew it was gonna go far as soon as I threw it. It was exciting. It was pretty cool hearing them announce it everywhere, and then to hear people talking about it."
His previous personal best was 49 meters. Knotts said a change in technique encouraged by coach Brian Brubaker that helped him increase his distance.
"It was good coaching," Knotts said. "Mr. (Brian) Brubaker's the best coach. It was all about detail, focusing on the little things. That's what made me better. He calls it 'relaxed chaos' as you approach. You don't want to grip the javelin too hard, so I loosened my grip but also sped up my approach. I was trying to throw as hard as I possibly could with a loose technique. You rely on the science — and he's a science teacher — so he's focusing on keeping it close to your body and putting every single pound you have into the throw. That's the main thing about it."
It was a recent change, too. Knotts said he saved a YouTube video of such a technique for the plane ride to Lubbock and, rather than go with an in-flight movie, he watched the video over and over again.
"It was literally like a five-second video and I must have watched it 200 times," he said.
Then he had the "best week of practice I've ever had," set the record at the Bob English Invite and has since been excited to see what he can do with more time to hone his technique. His personal goals for the rest of the high school track season are to hit 65 meters throwing and win a state championship, and he's also rooting for his teammates on the boys and girls squads to keep up their good work.
The Raiders' javelin group is doing quite well as a whole in Class 4A-Region 2 action. Knotts is ranked first overall among boys in the region and teammate Kaden Mizell is close behind him at fourth overall. On the girls side, Kaylee Hahn also has Plant City on top and teammate Bailey Blanton is ranked 14th overall.
In TFRRS' official All-Florida rankings, Knotts sits atop the boys list and Mizell comes in at 40th overall. Hahn is ranked fourth overall in the state and Blanton comes in at 139.
"We have a really good crew this year," Knotts said. "Hopefully we can all get a little better, go up in the rankings a little bit and go out there and compete."
SMALL TOWN, BIG ARMS
Jackson Knotts may get the headline for the state record-setting throw, but he's not the only Plant City Raider who has thrown the javelin well this season.
Top Throws of 2021:
Knotts — 57.23m — Bob English Invite (Mar. 6, 2021)
Mizell — 43.74m — Bob English Invite (Mar. 6, 2021)
Hahn — 33.48 — Newsome tri-meet (Feb. 18, 2021)
Blanton — 23.49m — Newsome tri-meet (Feb. 18, 2021)