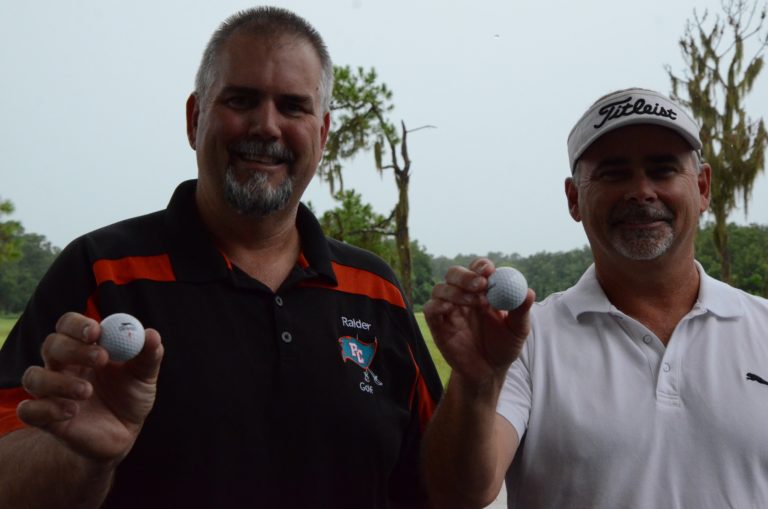 Mark Kummelman and Todd Martin have been hired to replace longtime Plant City High golf coach Meg Jordan.
Meg Jordan is fresh off of another successful year at Plant City High, which ended with her receiving a Hillsborough County Coach of the Year award in May.
But before she got the trophy, her mind was made up: it was time to move on from the program.
Jordan, who coached the Raiders for 13 years, quietly retired in the offseason and is focusing on her family-owned business, Carpet Diem. After getting four district titles and three regionals wins and sending several girls to state championship tournaments, she decided to leave after coaching Kendall Johnson in the 2015 state tournament.
"It's been a pleasure and an honor to be around such wonderful young people, and we're looking forward to watching their continued success," Jordan says.
Jordan, who coached the boys and girls teams last season, will be replaced by Mark Kummelman and Todd Martin — both parents of current Raiders golfers.
THE GIRLS
A lifelong golf enthusiast, Mark Kummelman has always played for fun. He was not formally trained and did not play for his high school, though he says that was because he didn't know it was an option at the time. But he picked up the game at age 6 and never put it down.
Mark Kummelman, a first-time coach, is the father of senior Savannah Kummelman.
He's entering the season with three goals in mind. First among them is to keep the team's success going.
"I want to win districts and, hopefully, at least finish second at regionals," Mark Kummelman says.
Second, he hopes to build for the future by marketing the golf team as a way to help girls get to college.
"I want to let girls know how easy it is to get scholarships," he says.
In part of that pitch, he says shooting in the low 80s to high 70s will attract college programs. But that also comes with maintaining a good GPA, and Mark Kummelman says the lowest GPA on his squad (besides that of incoming freshmen) is a 3.5.
His third goal is to, in his words, "make this game fun." Mark Kummelman says he wants to loosen up the atmosphere within the program to reduce stress and help the girls' ability to shake off bad shots.
"When we're practicing, it's serious," he says. "When it's game time, we're loose. I've always told my daughter, 'Don't let your last shot dictate your next shot.'"
THE BOYS
Todd Martin is also a first-time golf coach but, like Jordan, he has deep ties to the program.
Although he didn't pick up the sport until age 12, Todd Martin went on to play four years for the Raiders and then two for Hillsborough Community College as a scholarship athlete. He never left the sport, getting involved in junior golf when his son, sophomore Peyton Martin, did.
Todd Martin is also a familiar face to many of the boys, having crossed paths in junior golf and on the PCHS team. For this reason, he felt he would be a good fit for the program when approached by athletic director Tim Leeseberg.
"It's a great bunch of kids," Todd Martin says.
He'll take over a boys team that finished third in districts last season, making the cut for regionals, and has every intention of placing first this year. It also features senior Kaelib Carlough, who came one stroke away from making it to the 2015 state championships.
Todd Martin's other goal is to develop the players who don't have much experience. He's hoping to get two of the team's three sophomores and both of its freshmen the playing time they need to grow and get on the "right track."
In Todd Martin's opinion, the younger golfers have good potential. And the older ones, with Carlough leading the way, look to make some noise this year. It's enough to have him feeling optimistic about the Raiders' district championship chances.
"The time may be right," he says.
Contact Justin Kline at jkline@plantcityobserver.com.
Tee Times
Boys and girls golf season begins Monday, Aug. 22. All matches start at 3 p.m., unless otherwise noted.
Aug. 22: vs. Newsome, Walden Lake Golf and Country Club
Aug. 25: vs. Bloomingdale, Bloomingdale Golfers Club
Aug. 29: vs. Durant, River Hills Country Club
Sept. 1: vs. Strawberry Crest, Walden Lake Golf and Country Club
Sept. 6: vs. Strawberry Crest and Armwood, Diamond Hill Golf Club (2 p.m.)
Sept. 8: vs. Riverview, Summerfield Crossings Golf Club (2 p.m.)
Sept. 19: vs. Strawberry Crest, Walden Lake Golf and Country Club
Sept. 20: vs. Freedom, Tampa Palms Golf and Country Club
Sept. 26: vs. Newsome, River Hills Country Club
Oct. 5: vs. Lennard, Walden Lake Golf and Country Club
Tournaments
District
Monday, Oct. 10, through Wednesday, Oct. 12, locations TBD
Regional
Monday, Oct. 17, through Wednesday, Oct. 19, locations TBD