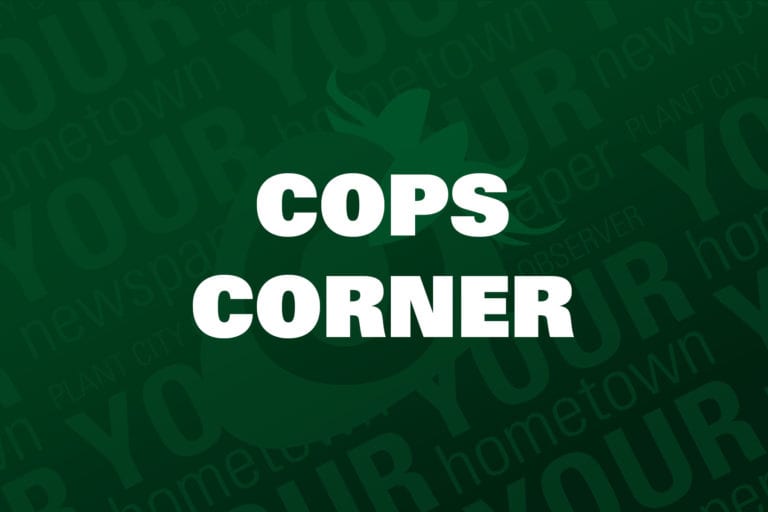 We've compiled the very best of Cops Corner over the course of 2019.
Jan. 14
Jump start to nowhere
400 block of Abigail Road
Vehicle theft attempt: The complainant told officers he had parked his green 2004 Jeep in his driveway while it was unlocked on the night of Jan. 13. When he woke up in the morning he found the Jeep had been pushed out onto the cul-de-sac with the driver's door open. Someone had also removed the steering column plate and damaged the ignition switch. They failed to get the vehicle started though and fled the scene.
Jan. 22
Pour one out
1400 block of South Collins Street
Retail petit theft: An unknown man entered the store and concealed a bottle of wine in his pants. The bottle fell out and broke on the floor. The same man then concealed other items, which valued $9.20 and fled the store.
Tree climber
200 block of Waller Street
Business burglary/theft arrest: A man was observed climbing a tree in an attempt to access the business property. He was arrested and sent to Orient Road Jail.
Feb. 3
'Cane' you shut up?
1100 block of North Johnson Street
Battery: A woman told officers she was struck in the back with a cane by her friend's elderly father. There was a slight redness on her back to back up the claim. The man in question said he struck her because she would not stop yelling. She declined prosecution and signed a waiver.
Feb. 17
Suspicious delivery
1100 clock of E. Renfro St.
Found drugs: Officers came out to this person's home after receiving a report that a package had been delivered by U.S. Mail and the homeowner didn't know the person indicated on the package label as the intended recipient. When the package was opened, they discovered a bunch of methamphetamine inside.
March 12
That stinks
1400 block of South Collins Street
Petit theft: Officers came out to this store after someone stole seven air fresheners.
April 3
Should've swiped left
Walden Woods Drive
Theft: This victim met an unknown man on an online dating site. They met up, consumed some drugs together and then she exited his vehicle to use the restroom. When she returned, he had left with her purse still in his vehicle. She signed a waiver not wanting to pursue the matter any further.
April 7
Golf cart getaway
2700 block of Turkey Creek Road
Retail theft: The Walden Lake Food Mart told officers that four juveniles entered the store, selected a package of buns and some candy and then left without paying for the items. As the owner walked out to speak to them, they left on a white golf cart and entered Walden Lake.
April 8
Oh, how the tables have turned
1 Police Place
Warrant arrest: This man came to PCPD to file an unrelated report. While he was there, officers found he had an active HCSO VOP warrant for burglary. He was arrested and transported to Orient Road Jail.
May 19
I'm not lovin' it
2000 block of James L. Redman Parkway
Battery/Waiver: This complainant told officers he was involved in a verbal altercation with an unknown person in the drive-thru of the McDonald's. He said the verbal altercation was over line cutting at the drive-thru and that both he and the unknown subject exchanged words. When he went to walk away, the subject punched him, causing redness and swelling to his nose. He was unable to provide the license plate and declined to pursue any charges. He signed a waiver of prosecution.
June 20
Cat-astrophe averted
200 block of Maki Road
Fraud: This victim was trying to sell a kitten via the internet for $300. Someone provided him with a $1,450 check and asked him to refund the remainder. The seller confirmed the check was fake via his bank and reported the incident to PCPD.
July 8
Crafty Craigslist
2100 block of Spooner Drive
Fraud: This victim reported to police that someone tried to sell his vehicle without his permission.
July 16
Suspicious tale
200 block of West Alexander Street
Armed robbery (waiver): This victim told police four men approached his vehicle at a stop sign. Two were armed with handguns and made him exit the vehicle. They took his wallet, which contained only his identification, and his cell phone. Later, he admitted there was more to the story. He was driving around asking subjects to purchase illegal narcotics and was robbed. He waited 30 minutes before calling the police and did so from the south side of the city. He signed a waiver and didn't pursue any criminal charges.
Aug. 10
Fanny pack pirate
1600 block of East Warren Street
Residential burglary: An intruder to this victim's home slunk away with an unusual swipe. The suspect entered the home via an open window and stole a fanny pack from the house, which contained keys, a Florida driver's license and miscellaneous electronics.
Sept. 9
Surf and turf
1500 block of East Baker Street
Theft: A Dollar General store clerk said a woman concealed an estimated $155 worth of shrimp and chicken and then fled the store.
Oct. 12
Double trouble
700 block of Brown Street
Stolen vehicle: This complainant said that during the night of Oct. 11, an unknown suspect entered his unlocked 1998 Ford F-150 and located a spare key to his second vehicle, a silver 2018 Ford Mustang. Using the swiped key, they stole the Mustang.
Nov. 3
Pool pirate
4700 block of Breeze Avenue
Trespass: Officers responded to a report of vandalism. The homeowner told them someone cut the screen and entered her closed-in pool area. It appeared as if whoever entered the area then took a swim inside her pool.