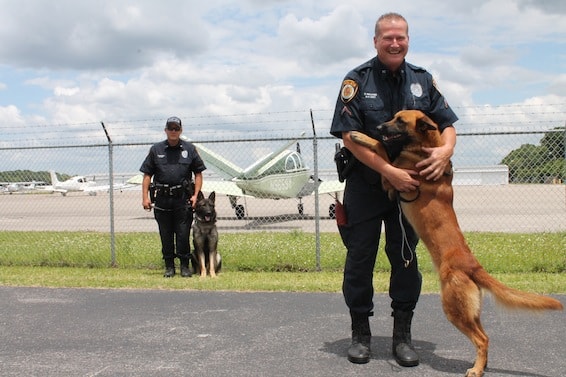 On a hot afternoon in May, three deputies and two Plant City Police Department officers are stiffly aligned in a field near Tampa Executive Airport. At each man's side is a dog, panting to keep cool, and alert to the sights, scents and sounds of the other members of this outdoor classroom.
"Break," a facilitator says. The rigid formation melts away, and each man takes a chew toy from his pocket. For a few minutes, the dogs jump, play and bark, as the deputies and officers praise them in high-pitched voices.
Though the dogs appeared to be serious and intimidating, they are just puppies on the inside.
And after 13 weeks of training, with every action motivated by the opportunity for playtime, they will be ready to launch their careers in law enforcement as Tampa Bay's newest K9 units.
Plant City Police Department officers Patrick Walker and Mike Zaccaro are training K9s Jax and Leto, who will replace two dogs that recently retired after nine years with the PCPD. Jax and Leto will complete Plant City's four-K9 team, allowing the department to have dogs on patrol 24 hours a day, seven days a week.
RETIREMENT 
When a dog retires, its handler has the option of keeping the dog as a pet. After working with K9 Ruger for the dog's entire career, there was no question for Walker about whether he would want to keep Ruger around.
"That dog's my best friend," Walker said. "We spend more time with these dogs than we do our own families."
But for K9s, retirement isn't necessarily the relaxing reward that we consider it to be. The sudden change to a lack of work and less time with their handlers can cause the dogs to go into depression.
Walker still spends plenty of quality time with Ruger and takes him for rides around the block, to make sure he knows that he hasn't been abandoned.
"They don't understand that this is their time to relax because they don't want to," Walker said. "He wants to go, he wants to ride, and he wants to do all the stuff he used to do."
But another challenge for Ruger is to get used to Jax, the new dog that Walker will be working and living with.
FINDING A MATCH
The police department gets all of its dogs from a breeder in Lady Lake, who sends representatives overseas to pick out dogs in Europe that have the best potential. Each dog costs the department about $8,000.
Walker and Zaccaro went to Lady Lake a few months ago to socialize with the available
dogs and see which ones would work well with them. They checked the dogs for tracking abilities, hunting drive and other traits.
Within 48 hours of picking out their new K9s, Walker and Zaccaro had to take the dogs to a veterinarian in Plant City for an exam. But the vet didn't like what he saw.
"(One of the dog's) back legs weren't the way they were supposed to be on a German shepherd … and he was showing some signs of arthritis in his front elbows, and the dog was only 14 months old," Walker said.
The second dog also had some problems.
So, the dogs were sent back, and the officers returned to the breeder to pick out another pair. They returned to the department with Jax and Leto. After they passed their vet exams, it was time to get to work.
TRAINING AND CAREER
Jax and Leto hadn't had any prior training when they arrived in Plant City.
"They don't know anything, other than to be a dog," Walker said.
But the 13-week training period, led by Hillsborough County Sheriff's Office and held at an aviation facility in Tampa, transforms the dogs into obedient, criminal-catching companions.
The dogs will eventually be used for patrolling on felony cases, and for narcotics cases. Their training includes narcotics detection, bite work, criminal apprehension, building searches, human tracking and more.
They also have to learn basic commands, such as "sit," "heel" and "stay."
"Obedience is a big thing," Walker said. "That's the issue I'm having right now. … Jax wants to do what Jax wants to do."
Training is based on the reward of playtime. When a dog correctly responds to a series of commands, its handler gets out a favorite toy and lets the dog have a moment of fun. Food is not used as a reward, and beatings or other harmful actions are not used as punishment.
After the training period, the dogs will have to pass exams to become certified. They will continue field training for 16 hours a month during their career, and they will be recertified twice a year.
Just like people, when the dogs come home after a long day of work, they are entitled to some rest.
"They have to have the opportunity to just be a dog," Walker said.
But they're always ready to jump right in the next day.
"It's like you turn a switch on or off in their head," Walker said. "When Ruger used to see me getting dressed, he knew in his mind, 'OK, we're fixing to go to work.' And you could see his demeanor start to change. He knows at that point, we're at work. Nobody's allowed to touch me, nobody's allowed to touch him and nobody's allowed to get in that car."
MEET THE K9S
Jax
Breed: Belgian Malinois
Age: 16 months
Origin: Netherlands
Personality: Affectionate, high-energy
Leto
Breed: German shepherd
Age: 17 months
Origin: Poland
Personality: Laid-back, easy going
Contact Catherine Sinclair at csinclair@plantcityobserver.com.