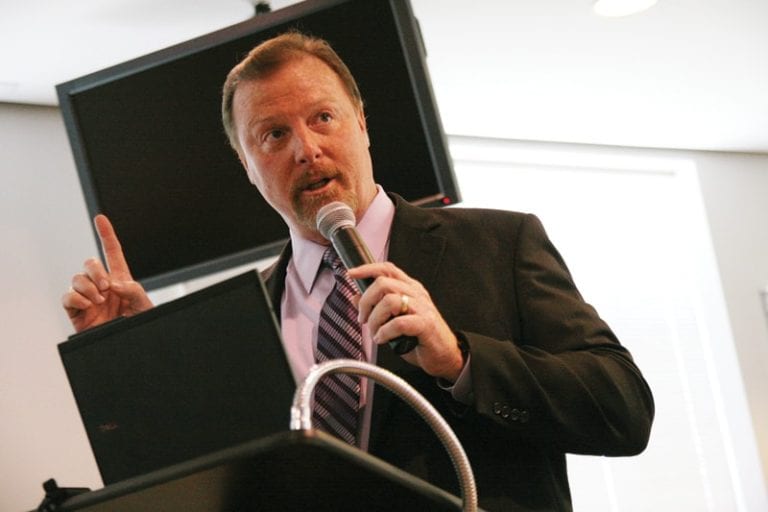 By Amber Jurgensen | Associate Editor
With the country still reeling from heated debates, pushy campaigns and overwhelming political advertising, it's hard to believe the election was already two months ago. The beginning of the year marks a new start for ideas that grow into bills and agendas and brings some new faces to the political frontier.
One of those is Dan Raulerson, who was elected to the Florida House of Representatives District 58 seat. He garnered nearly 57.45% of the vote against Democrat Jose Vazquez.
Raulerson celebrated his victory surrounded by supporters, friends and his wife, Shirley, Nov. 2, at O'Brien's Irish Pub and Grill off Alexander Street, in Plant City. The bright-eyed Republican was excited to begin his political career in Tallahassee.
"I'm really looking forward to the challenge and honored that people have faith in me," Raulerson said that night. "I'm going to go in and put up a fight."
Raulerson's first foray into politics was at his alma mater, Brandon High School, as senior class president. Since then, he's come a long way. Raulerson served as a Plant City commissioner, elected in 2007 after then-mayor John Dicks planted the seed in Raulerson's head.
Raulerson served as mayor for two years and then stepped back to focus on his campaign for District 58 after people in the community asked if he would run.
Raulerson resigned from the commission in November and was sworn into his new post Nov. 20.
"It was never anything that I had planned on; it just happened," Raulerson says.
NEW EXPERIENCES
So, how is life now for Plant City's new representative in Tallahassee?
"The experience so far is like drinking from a fire hydrant," Raulerson says. "There is so much to learn as far as protocol and rules. It's been exciting — and somewhat scary. There's a lot of responsibility that goes along with it."
Raulerson has been attending orientations and briefs since he took his oath.
"It's been fun," Raulerson says. "Orientation and training is a little bit like initiation. Some of the older members have a sense of humor and like to joke around."
On the night of his election, Raulerson said he wanted to focus on learning the way the House operates and using his small-business experience as a certified public accountant and co-owner of AaSys Group Inc. to make changes that bolster the economy.
So far, he seems to be doing both of those.
"I want to focus on getting rid of legislation," he says. "I want to purge the unnecessary rules and statutes. Regulations are important, but stupid regulations are not. I want to get rid of regulations that are bogging down business and identify those that have outlived their time."
As a Plant City commissioner and former mayor, Raulerson does have political experience but says being a state representative is different.
"You don't have nearly as much influence," Raulerson says. "When you're on the commission, you're one of five that are affecting 30,000 people. In the House, you're one of 161 legislators (who) all have their own constituents and districts. So, I have to deal with all the issues of the state of Florida."
Raulerson serves on five subcommittees, including finance and tax, government operations, health quality, joint legislative auditing and regulatory affairs.
Including Raulerson, there are three CPAs serving on the finance and tax committee.
"I'm very excited, because I have a chance to work with them to make changes versus those not as well versed in tax law," Raulerson says.
THE MAN BEHIND THE SUIT
Raulerson's background isn't in politics. Born July, 3, 1957, in Jacksonville, the sixth-generation Floridian moved to Brandon when he was 14. After graduating from Brandon High, he enrolled in 1976, at Florida State University. There, he was part of the Sigma Chi fraternity and earned a bachelor's degree in accounting.
Raulerson worked for a CPA firm in Orlando before being recruited at age 24 to run a new branch his company was opening in Plant City.
Although he did not expect to stay in Plant City, he later opened in 1995 his own accounting practice, Raulerson & Co. He has served on the advisory board for Platinum Bank since 2009 and the board of directors for the United Food Bank of Plant City since 2008.
And despite long record his service to the community, he may be best known for another role entirely.
He often jokes that he's known as "Jackie's Dad." His daughter, Jaclyn, is a successful pageant competitor who has competed nationally in the 2011 Miss America Pageant as Miss Florida, among other titles.
But Raulerson has his own hobbies, such as playing guitar, golfing and reading.
He also enjoys cooking. He is a member of the Plant City Gourmet and Viticulture Society. Many locals might have tasted his appetizer dish at a 2012 fundraiser for the United Food Bank of Plant City. The dish was fried dove, sautéed in olive oil, garlic and wine.." >http://dolcestyle.ru/zaym-na-kivi-koshelek-bistro-1.php