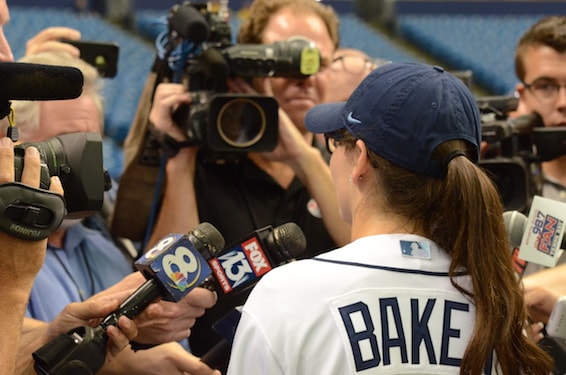 It's been one heck of a ride for Chelsea Baker: a high school career full of ESPN cameras, trips to Japan and team success. But now that the FHSAA 7A State Championship tournament is over, the Durant senior has other plans.
Chief among them is being a normal student again. The incoming Florida Atlantic University freshman believes she's done with baseball as a full-time commitment and will be heading to Boca Raton after one last summer tournament.
"My goal was always high school," Baker says. "I never even looked for college. That would be awesome to do, but I'm happy with where I've gotten."
She'll be training for a week-long tournament in Virginia, for which she'll depart June 12, and will then begin the moving process.
"I'm not playing baseball there, but I'm playing baseball with other teams," she said. "I know I'm going to Virginia this summer, for a week, to play with a travel ball team. I'm going to do tournaments here and there, but college-wise, as of right now, I'm not doing anything."
The senior reliever, as of press time, is 2-2 with a 2.39 ERA and eight strikeouts this season. Over her two-year varsity career, Baker has put together a 5-2 record with a 1.46 ERA.
Outside of Durant, Baker's baseball career has taken her places that many young players dream of. She's been to Japan to take on some of the best all-girls' teams from the Land of the Rising Sun, and was most recently invited to try out for the U.S. Women's National Team last year. Her adventures in the East earned her the nickname, "Knuckleball Princess," as well as a professional contract offer at age 15. She's appeared on television many times, striking out former Boston Red Sox player Kevin Millar and throwing batting practice for the Tampa Bay Rays live on SportsCenter. She also once plunked Rays superstar Evan Longoria on accident, which he took in stride. She does not consider that her favorite baseball moment ever.
"Heck no," Baker says, laughing. "That was the worst."
Her national exposure has inspired many young girls to pick up the sport, and Baker says she still gets fan mail from them on her social media accounts.
"Every now and then, I still get girls that message me on Instagram saying, 'You inspire me to keep playing baseball,' and stuff like that," Baker says. "That's something I'll always be proud of."
But her favorite baseball memories come from being a member of the Durant Cougars. As a JV player in her sophomore year, Baker was able to watch the team's previous state championship tournament run in person and longed to get on the field. This week, she was able to do that at JetBlue Park in Fort Myers — not a bad place to be for the last leg of one's high school career.
The camaraderie among the Cougars is, perhaps, Baker's favorite thing about the team. In all her years of playing, she says she's never played on a team like this one.
"This is the funnest team I've ever been on," Baker says. "I've played baseball for years and years, and I've never had brothers like them, people that will stick up for me. I just have fun out here. I love it."
Now that the tournament's over, so are her days as a Cougar. Baker is looking forward to graduation and starting the next chapter of her life, but this chapter is something she'll always flip back to and remember fondly.
"I'm gonna miss it a lot," she says. "Baseball keeps me sane. I love coming out here. I don't play as much as everybody else, but being in the dugout, being with the family is something I'll miss forever."
Contact Justin Kline at jkline@plantcityobserver.com.