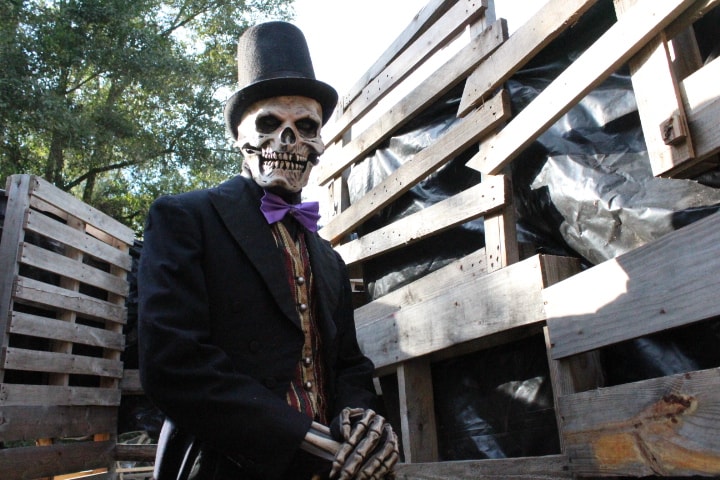 Horror lovers can be spooked by a wicked Halloween attraction that is returning to a remote property off South Frontage Road for the second year in a row. Sir Henry's Haunted Trail will open Friday, Oct. 2, and its scare zones will be terrorizing the Winter Strawberry Capital of the World every weekend through Halloween.
Guests will be able to walk along a dirt path and survive eight scenes of fear, from the undead at a flickering gas pump to a corn maze reminiscent of the Stephen King's  "Children of the Corn."
Creator Zach Glaros said the attraction will be even bigger and more dreadful than last year, and he is expecting around 3,000 guests.
"There is a lot of in-your-face stuff," Glaros said. "It's really intense this year."
Glaros and his father, Steve Glaros, built the majority of the props and setups for the event. They have been planning and working on it since January.
Glaros's attachment to Halloween started early. His birthday is two days before the holiday. Growing up, he built displays and sported twisted costumes for Halloween before deciding that his passion should be brought onto a larger scale.
Thus, Sir Henry's Haunted Trail was born. 
This year the trail will be more focused on Sir Henry, a cane-bearing skeleton created and played by Glaros. The character goes missing after his bride's death and reappears to torment the living. Sir Henry will be found throughout the the trail.
There will also be more actors performing on the trail this year. Twenty-five blood-splattered volunteers will play various parts, in comparison to last year's 10. The actors are placed in spots along the path and use shock, as well as performance, to scare their guests.
Though the layout of the path is the same as the previous year, all the scenes are revamped with more props and more intense scare tactics.
The trail is on about 2 acres and takes about 15 to 20 minutes to walk through.
"It was so much better than a commercially-run haunted house type of thing," Hayley Okonski, a guest who attended last year, said. "All you can see are trees and black, and it's incredibly different from other similar events."
On opening night, anyone who brings a canned good will receive $2 off admission. The food will be donated to the United Food Bank of Plant City.
A portion of all proceeds the event receives will go to the Wounded Warrior Project. Last year a percentage of the money was given to the Florida Baptist Children's Home.
"I want to switch it up each year to benefit a different charity," Glaros said.
IF YOU GO: 
WHEN: 7:30 to 10 p.m. (open until 11 p.m. Oct. 30 and 31) Oct. 2 to 4; 9, to 11; 16 to 18; 23 to 25; 30 to 31
WHERE: 2837 S. Frontage Road
PRICE: Tickets are $10 per person and $8 for groups with 10 or more. Guests can receive $2 off with the donation of a canned good on opening night. All donations go to the United Food Bank of Plant City. A portions of proceeds go to the Wounded Warrior Project.
Trail of fears
Sir Henry's Graveyard | The place where Sir Henry and his bride are buried.
The pirate scene | A sinking pirate ship and maze hold surprises for wanderers.
A cabin in the woods | A residence where witches are conjuring.
The swamp | Hillbilly zombies rule this soggy territory.
Abandoned mineshaft | Houses a killer on the loose.
The scarecrow scene | Engulfs visitors in its weed-filled path.
Clown circus | It's the largest maze on the property.
Funeral | The final scene ties back to Sir Henry and completes the experience with his funeral.