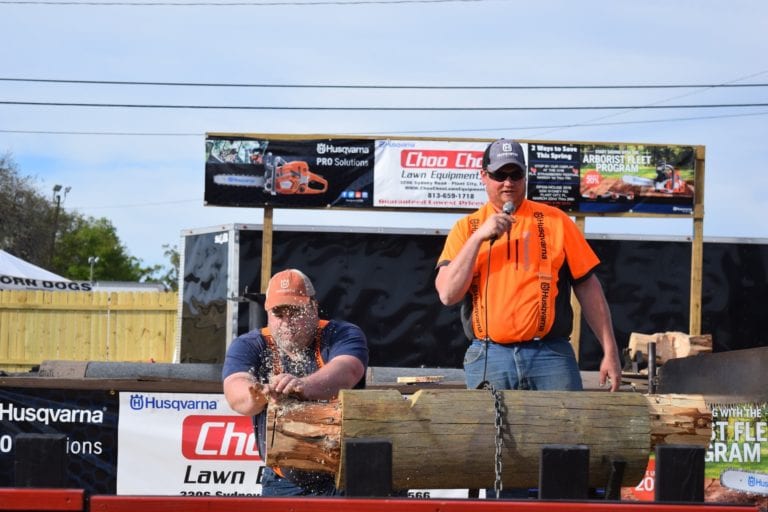 The Paul Bunyan Lumberjack Show has found a unique way to bring joy and awe to viewers around the world.
The Paul Bunyan Lumberjack Show is back and it's bringing an array of changes to continue to captivate the crowds at the Florida Strawberry Festival.
Myra LeCaptain, co-owner of Paul Bunyan Lumberjack Show, said she and her husband, Lee, never thought they would travel the world with their professional lumberjack stunt show. Lee was a nuclear engineer when they met several decades ago in Michigan.
They fell in love and soon Lee was looking for a change. Out of the blue he said he'd always wanted to try his hand at a lumberjack competition.
That was it. Suddenly, the Paul Bunyan Lumberjack Show was born and it has since gained recognition worldwide for its thrilling and fast-paced entertainment.
"It's good for fairs to change up their entertainment," LeCaptain said. "We do a lot of repeat events — we've probably been to the Strawberry Festival many many times — so that's how you know you're proud of your company. That you're invited back, that they want you to keep coming and entertaining their guests."
Though she said they always change up the show whenever they come back to town, this year has an abundance of firsts. For the very first time the Florida Strawberry Festival is going to see the Lumberjacks showing off their skills with the Lumberjills. It's not a first for the group, but it is the first time the Strawberry Festival attendees will have a chance to watch the highly-trained women in action.
LeCaptain said the women with their group were trained through their forestry department at Southern Illinois University, where they are attending school. They have a deep passion for forestry and are eager to be able to share that passion with each and every person that stops by their set up at the festival.
This year will also look a bit more elaborate than years prior. The company has brought a second trailer with them for the show and will have an even larger venue to showcase the intense competition. The flannel-clad competitors will participate in mini battles in underhand chopping, stock sawing, modified sawing, springboard chopping, standing block chop, log rolling and more. Every show is a different than the one before due to the spontaneous nature of the competition.
The live emcee also keeps things rolling as he relies on audience participation to rev up the show and keep things moving. If the audience is swept up the show tends to run few minutes longer as the crew works even harder to keep the energy alive.
"We tell all of our guys, our new ones and our old ones, we say 'sit back and watch the audience prior to the show,'" LeCaptain said. "The parents are coming in with their kids, the kids are mad, they look stressed out, there's a lot of people that want to see the show and they're tired from walking around. You don't know what people are going through. Once you're on stage you look down and within 10 minutes their faces are full of joy and laughter. They forget their worries… that's what we bring, laughter, fun and to forget whatever is bothering you."
While the majority of the show is centered around awe-inspiring feats of strength, skill and precision the routine is also peppered with educational moments so folks walk away with a better understanding of the environment and what it takes to be able to pull off some of these elaborate tricks.
LeCaptain said they've made countless friends over the years through the show and have memories that will last a lifetime. One that will forever resonate with her is when they were performing a show in Montana approximately 17 or 18 years ago. It was a 10-day run and around the third day there was a girl in the crowd that captured all of their attention.
She had long, black hair and watched every single show that day. In-between sets she would head off to a nearby tree and work on a piece she was knitting. When the next show was preparing to start she came back and watched it again. She did this every day for the rest of their trip.
Weeks later when the company finally returned home they found a handwritten letter from the young girl. She told the group she had been having a hard time and had even been contemplating suicide when she stumbled upon their show. For some reason watching them crack jokes and perform lifted her spirits. It helped bring her peace and changed her mind.
She thanked them for bringing even a small dose of joy to the world. LeCaptain said she often thinks of her even all these years later before they step out onto the stage and start another set.
"That's why we do this," she said. "We want to bring joy to people. We're constantly working especially now when we're in booking season. But to us it doesn't feel like work. It really doesn't. We meet so many outstanding people across the country. That's one of my favorite things. So come out and watch our show. You'll see a lot of competition and a lot of fun and I guarantee the skill these guys can bring will blow you away."
You can watch the Paul Bunyan Lumberjacks vs. Lumberjills show, sponsored by Husqvarna everyday at 12 p.m., 2 p.m. and 4 p.m. Additional 6 p.m. shows are on Saturdays and Sundays.