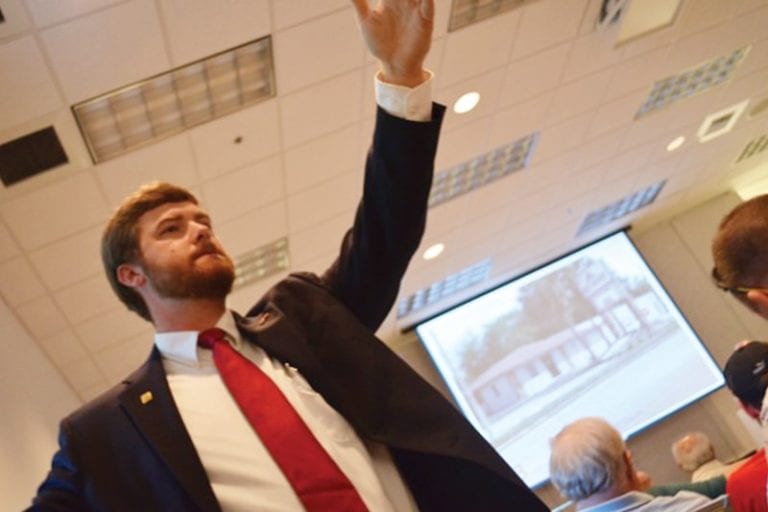 By Amber Jurgensen | Staff Writer
In the market for some property? How does a 74-acre equine facility with two horse barns sound? Or maybe a pair of charming historic buildings in Plant City's downtown?
These were just three of the properties available at a Higgenbotham Auctioneers auction June 28, at the John R. Trinkle Center in Plant City.
A last-minute property in Lakeland was added to the property list, making a total of 24 properties with 34 parcels up for grabs and with an estimated combined value of $20 million. Four properties were in bankruptcy. The two historic buildings, properties 22 and 23, were owned by Platinum Bank.
Plant City Mayor Michael S. Sparkman was auctioning off four different properties: about 2.5 acres with three commercial buildings on South Alexander Street; 19.2 acres on James L. Redman Parkway; 3.7 acres of vacant commercial land on Tillman Place; and 3.4 acres of vacant commercial land on West Reynolds Street.
"They're all pretty good properties," Sparkman said.
It was Sparkman's first time selling property at an auction.
"I'm just trying to stir up some excitement," Sparkman said.
He hoped someone would buy the almost 20 acres on James L. Redman Parkway and turn it into a shopping strip. But, the bidding did not reach the reserve price.
Mia Roach, representing the owner of the State Theater Emporium on West J. Arden Mays Boulevard, was looking to buy the historic building adjacent to the emporium. The plan was to cut a doorway between the two buildings to expand the antique shop, but an absentee bidder won the bid.
"It's exciting to bid," Roach said.
Shelly Connell, of Southern Hospitality, said her company had no plans yet for the commercial building it won on West Martin Luther King Jr. Boulevard. Because it was a reserve property, the seller still has to accept the bid.
"We'll have to wait and see if it goes through," Connell said. "Everything is kind of up in the air."
About 200 people attended the auction, which pleased Auction Manager Earl Williams.
"It was a really good crowd," he said. "We had a lot of different types of properties available, so that drew in a lot of people."
Contact Amber Jurgensen at ajurgensen@plantcityobserver.com.
WINNING BIDS
Property/Price
609 and 703 S. Alexander St./$650,000
1513 James L. Redman Parkway/$140,000
901 W. MLK, Jr. Blvd./$110,000
703 Hitchcock St./$135,000
3018 and 3020 James L. Redman Parkway/No sale
Trapnell and Smith Ryals roads, parcels one and two/$1,050 per acre
Trapnell and Smith Ryals roads, parcels one, two and three/$6,700 per acre
14070 and 14140 Sydney Road, parcel one/$125,000
14070 and 14140 Sydney Road, parcel two/$15,000
Tillman Place/No sale
Park Road and Jim Johnson Road/$300,000
503 and 507 Park Road/No sale
1301 W. Reynolds St./$300,000
Roberts Ranch Road/No sale
Sparkman Road, parcels one, two and three/$2,300 per acre
Thonotosassa Road, parcel one, (absolute), parcel two/$15,500
13350 E. U.S. 92, parcel one and two/$150,000
1508 Sammonds Road/$210,000
2309 Sammonds Road/$31,000
MLK Boulevard (absolute)/$1,000 per acre
Interstate 4 and McIntosh Road/$400,000
U.S. 33 and Tomkow Road/$200,000
102 S. Evers St./$350,000
111 S. Collins St. (absolute)/$250,500
1223 E. Lake Parker Drive/$150,000 ">http://xsport-tv.com/vzyat-deneg-do-zarplati.php