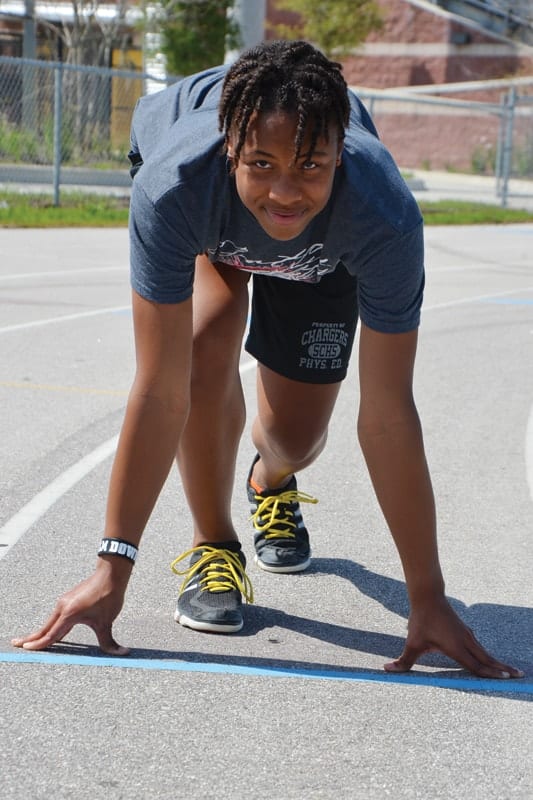 Three-sport athlete Terra Brooks has been putting the skills she's developed through volleyball and basketball to good use this track-and field-season. The Strawberry Crest freshman finished second in the triple jump and third in the long jump at last week's Hillsborough County Championships. She recently set a personal best of 35.9 in the triple jump and 16.10 in the long jump.
What was the Hillsborough meet like?
When I qualified for the long jump and triple jump, I didn't really think I was going to do as well as I did. With the help of my coaches, I've been able to work on my technique, and I've broken both of my personal records.
What made you want to do track?
I just like being busy with sports. It was something else to do. I did track when I was younger, and I was pretty good at it, so I wanted to see how far I would get.
What do you like about track?
I like the field events, and I like the 100 and the 200. Those are my main events and what I've been doing since probably fourth grade.
What are some goals you'd like to accomplish at districts?
To get at least first or second. For me, just to break my own records.
Have you always played multiple sports?
I cheered for seven years. In middle school, I started doing basketball, volleyball and track.
Do you have a favorite sport?
No. Basically this year, I'm just trying to find out which one will take me further. I really enjoy all of them. If I were to stop doing one of them, it wouldn't feel right. I think that decision will maybe come in a few years.
Have you seen a benefit in playing multiple sports?
Both volleyball and basketball improve my jumping. That's what all three sports contain for me.
What would be some goals you would like to obtain during your high school career?
Being MVP for all the sports I play would be one. I would like to go all the way to state for basketball, because we were pretty close this year. Same thing for track. With volleyball, we also went to regionals. So, I would like to go further than that. I just don't want to fall back in any sport.