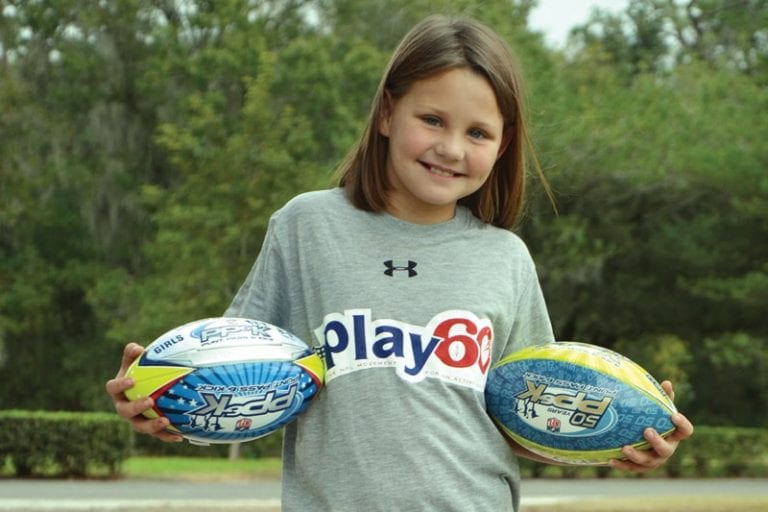 By Matt Mauney | Associate Editor
With a house full of older brothers, it's not a surprise that some football skills rubbed off on 8-year-old Shelby Jacobsen. The Plant City native has even shown up some of her brothers with her past performances in Punt, Pass and Kick competitions. Jacobsen recently placed second in the 8- to 9-year-old girls division of the NFL team competition at Raymond James Stadium Nov. 25.
What was the experience like getting to compete at the Buccaneers stadium?
It was fun, because we got to actually go to the game. I didn't watch the game last year, but I got to go with two of my brothers this year.
Have you ever seen a game there before?
No, this was my first time.
What did you like most about the game?
I liked the jets that flew over the stadium before. I also liked the pirate ship, even though we didn't go on it. It was cool when the team scored.
Do you play flag football like your brothers?
No, I did one year though. I do dance and cheerleading.
Which one of those do you like the most?
I would say I like them both equally.
What was your first Punt, Pass and Kick competition like?
I didn't really know what was going on, but I'm more used to it now.
What's your favorite part of the competition and why?
Kicking, because get a special tee that you use, and it's really fun to run up and kick it.
How long have you been dancing and cheering?
I've been dancing since I was 2, and I just started cheering last year.
For whom do you cheer?
The Shiloh Stars.
What kind of dancing do you do?
We do all kinds: regular dancing, hip-hop, jazz and clogging.
What is your favorite?
Clogging, because its really fast.
What else do you like to do for fun?
I like to read.
Do you have a favorite book?
I like "Junie B. Jones" and "Diary of a Wimpy Kid."
What's your favorite subject in school?
Math
If you would like to nominate someone for Athlete of the Week, please contact Associate Editor Matt Mauney.cheat2014.ru ">http://sportjoin.ru/bistro-zaymi-krasnoyarsk.php