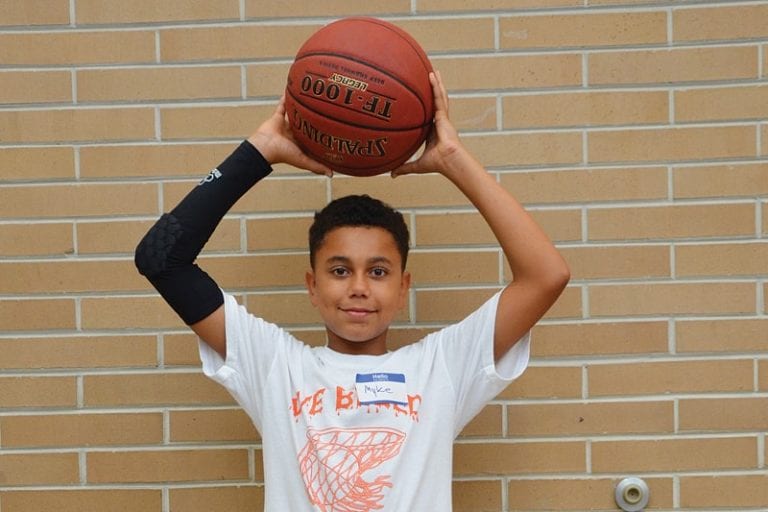 By Matt Mauney | Staff Writer
Myke Oyola, 11, is solely focused on basketball. He won the Most Outstanding Player award in the middle division (NCAA) in the first session of the fifth annual Plant City High School Coed Basketball Camp June 18-21. Oyola was moved to the highest division (NBA) during the second session of the camp this week, putting the sixth-grader against older and significantly bigger players.
What is the biggest adjustment when it comes to playing against older competition?
It's hard, because in the league that I was in, they are a little bit smaller, and I could usually shoot over them, and I can't even shoot now. They're just so big and faster and stronger, which makes it a lot harder.
When did you first start playing basketball?
I was in my first league when I was 7, but I wasn't really into it. I didn't get where I was into basketball until about 9 or 10.
What's your favorite part about basketball?
That's a hard one. I just like the whole thing. I like that you have to have the right technique when it comes to shooting.
Who is your favorite basketball player?
LeBron James, because he's really big and strong and can drive through anybody.
If you could have any super power, what would it be?
To fly, maybe, so when I'm on the basketball court, I could fly over people taller than me and be able to dunk.
What would you say is the toughest part of basketball?
Defense, because you're always moving and you have to have a lot of stamina. There's a lot of running back and forth after steals and switching direction, so you have to have a lot of energy.
What position would you like to play when you get to high school?
Point guard, because you get to handle the ball a lot and control the game, making a lot a decisions to shoot or pass and running plays.
What is your favorite subject in school?
Math, because I'm good with numbers.
Do you know what you want to be when you grow up?
A basketball player
And if that doesn't work out?
A veterinarian, because I love animals
Finally, what is your favorite thing to eat after a game?
I like going to Beef 'O' Brady's and having a big burger.seo