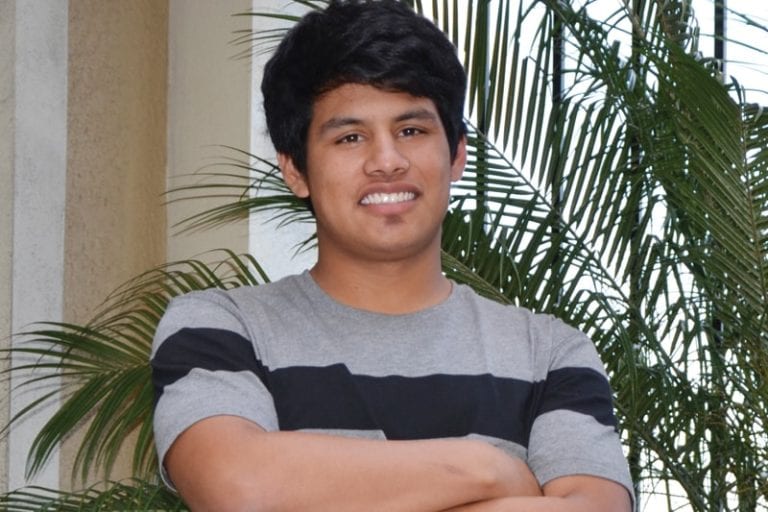 By Matt Mauney | Associate Editor
Madison Simcox, 13, has been cheering for nine years and is one of the most experienced member of the Plant City Dolphins 13- to 15-year-old varsity competition cheer team. Simcox's team placed third at the F.I.F.C.A. conference competition Nov. 3, at the Strawberry Festival grounds and fourth two weeks ago at the Gulf Coast Conference in the intermediate division.
What do you like about cheering?
Everything. I'm a flyer, and I've been a flyer for nine years, so I get tossed up in the air, and it's just fun for me.
What's it like being a flyer?
It's actually really scary, because you have to keep balance, otherwise everybody could get really hurt. You have to have good agility and everything to be a cheerleader. People think it's easy being a cheerleader, but it's really hard, actually.
What's the hardest thing about competition cheerleading?
It's really stressful, because we only get one chance to do the routine perfectly.
Do you have any hobbies other than cheering?
I play soccer, too.
Do you have a favorite TV show?
"Honey Boo Boo," actually. That's my favorite show, ever.
What do you like about it?
That little girl is just hilarious.
What are some cool places you've traveled to?
I've actually been to Mexico. I was actually doing research on Mexico as a research project, and my mom said, 'Well then, let's just take you to Mexico.' We went, and I brought back pictures and everything, and I got an "A."
When was that?
In fifth grade, I believe.
If you travel anywhere and do anything, where and what would it be?
Probably California, because they have All-Star cheer team there that I would like to go for.
Would you like to cheer in college?
Yeah, probably for either Florida or USF, because they major in stuff I'm interested in.
What are you interested in?
I'm an FFA officer for Marshall Middle School. I'm the secretary, and we do a lot of outside work helping people that aren't as fortunate as us. That's what interests me and agriculture.
Do you have any pets?
Yes. I have four cows, a pig, chickens, a dog and a cat.
Do you have a favorite out of those?
Probably my pig. His name is Chubbs, and I'm going to show him in the Strawberry Festival in February.