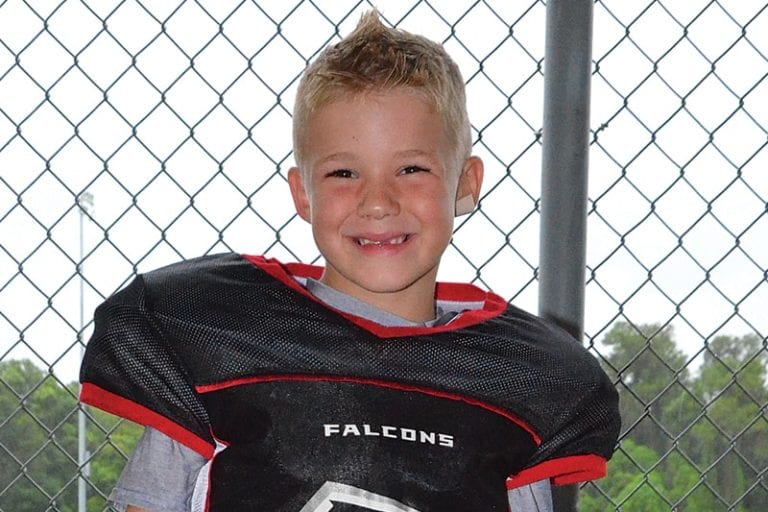 By Matt Mauney | Staff Writer
At the younger age groups, most players prefer the quarterback or running back positions to the less glamorous — but no less important — line positions. However, that isn't the case for 6-year-old Luther Scarlett, a center and defensive end for the Plant City Dolphins Mighty Mite team.
According to head coach Kenny Watson, Scarlett loves to seek out guys to block and isn't afraid to hit them. "It is surprising, but he just loves to block," Watson said. Scarlett has been a big part of the Mighty Mite Dolphins success so far this season; the team sits at 2-0. Here's a look at this week's Athlete of the Week.
How long have you been playing football?
Two years.
What do you like most about playing football?
That you get to tackle and block.
How long have you known that you wanted to play football?
I've been practicing since I was really little.
What do you like most about the season so far?
We're 2-0 right now. I like that I get to block and tackle on both sides of the ball.
Do you have a favorite pro football team?
The Miami Dolphins and the Atlanta Falcons.
Do you want to play football when you get to high school?
Yes, I want to play for Strawberry Crest.
Do you play any other sports?
I believe after football that I'm going to play baseball.
School just started this week. What grade are you in, at what school, and what was your first day like?
I just started first grade. I go to Shiloh. I liked that we got to do fun stuff.
What's your favorite thing about school?
Recess
What's your favorite food?
Fish
Do you have a favorite movie?
"Marines"
Do you have a favorite TV show?
I like "Spongebob Squarepants."
Do you have any pets?
I have three dogs: Mia, Rocco and Coco.
Do you play any video games? If so, what kind?
I like to play Madden.
What teams do you like to play with on Madden?
Miami.
Did you get a chance to do anything fun this summer?
I got to go to Universal Studios.
What ride did you like most?
The Simpsons Ride.