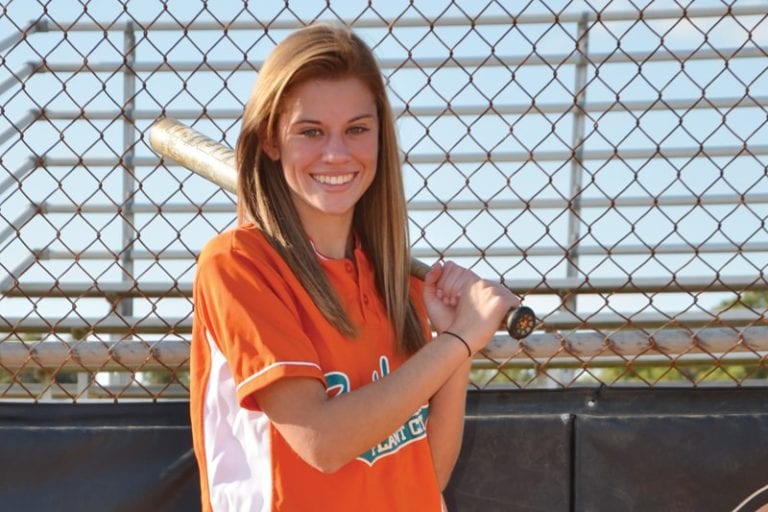 By Matt Mauney | Associate Editor
After verbally committing to play for the University of South Florida her junior year, Plant City High School softball standout Kristen Wyckoff made it official last week when she turned in her signed letter of intent to play for the Big East school. The left-handed shortstop/second baseman was a key player for last year's 17-6 Raiders team. Hitting out of the leadoff spot, Wyckoff had a .592 batting average and stole 42 bases, which was fourth best in the state.
What was the recruiting process like?
I had no intentions of going out of Florida. Ever since I was little, I wanted to stay in Florida. It was between Florida and USF, but I felt a lot closer with USF, because I've known all three coaches there since I was 10 years old, doing lessons with them, so it felt more like home.
Do you play any other sports?
All through middle school, I played basketball, soccer, track and volleyball, and when I got (to PCHS) my freshman year, I played basketball, volleyball, softball and flag football. Sophomore and junior year, I played only volleyball, softball and flag football. This year, I'm just going to play softball and flag football.
Other than softball, which is your favorite and why?
Flag football, because I feel like I can just use my speed and run.
When did you first discover you were fast?
I always used to race my dad and my friends (when I was young), and I would beat everyone.
What are some personal goals for your senior softball season?
I'd like to break my batting average and stolen bases from last year.
What do you like about batting leadoff?
They say hitting is contagious, so if I get on, that can set the bar for the rest of the team.
What do you expect college ball to be like?
I'm kind of a scrawny person, so I'm worried a little about the workouts, but I'm excited, because it's going to be a faster game.
What else do you enjoy?
I love the beach. That's my favorite place.
What's something people may not know about you?
I'm an extremely picky eater. I inspect all my food, and if it doesn't look good, I won't eat it. Also, for a refreshment in a game, instead of Powerade or water, I'd rather have Mountain Dew. That's going to be another big change in college, because they won't let me do that.