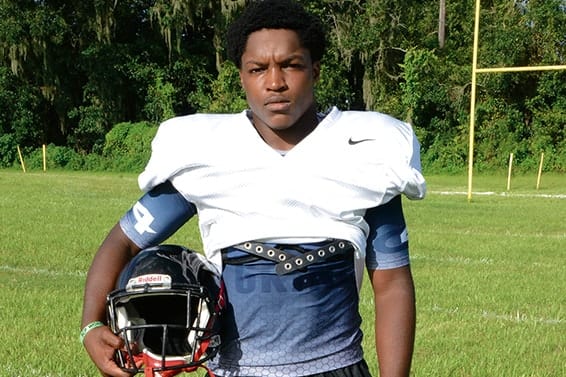 Marshall Middle School eighth-grader Chad Gassel started playing football three-and-one-half years ago, and he's been in love with the game ever since. A standout player on the Antioch Redskins varsity team, Gassel, 13, hopes to make his last season with the Redskins organization a memorable one before achieving his next goal of playing in high school.
What positions do you play?
Throughout my years, I've played both sides of the football. I've played fullback, I've played center, which I play now, and I've played middle linebacker, defensive tackle and defensive end.
Do you have a favorite position?
I don't really have a favorite, but I like playing defense. I feel I can play any position.
What's been the biggest adjustment with the center position?
The hardest part of playing center is getting the ball off on snaps and being able to block at the same time. It's all about getting your reflexes faster.
Do you know which high school you will attend?
I'm not positive, but I want to go to Strawberry Crest.
How did this last week go with the Redskins varsity?
We lost. The first quarter was bad. Our defense came out pretty sluggish early. They scored 28 points in the first quarter, seven in the second and none the rest of the game, so we started having fun and stopped them.
What's your goal for the team?
Just to make it to the playoffs. For the past two years, we didn't make it. My first year, we did pretty good, winning five games, but last year we only won one. We're just hoping to make the playoffs. We've got potential, we just have to learn how to work together.
Do you have any memories from your time with Antioch?
It was a big change in my personality, because I used to think that I was good at everything, and then when I came out here, I realized I wasn't the best. That kind of taught me how to work to be the best and that you're not always the best at everything and there is always someone out there better than you.
What do you like about football?
It allows you to take your anger out on the people across from you, and it basically allows you to hit somebody and not get in trouble for it. It allows you to express your anger and your will to win. It also puts on a good show for your family.
Outside of football, what do you like to do?
I read a lot.
Do you have a favorite book?
I'd have to say the series of Ranger's Apprentice by John Flanagan.