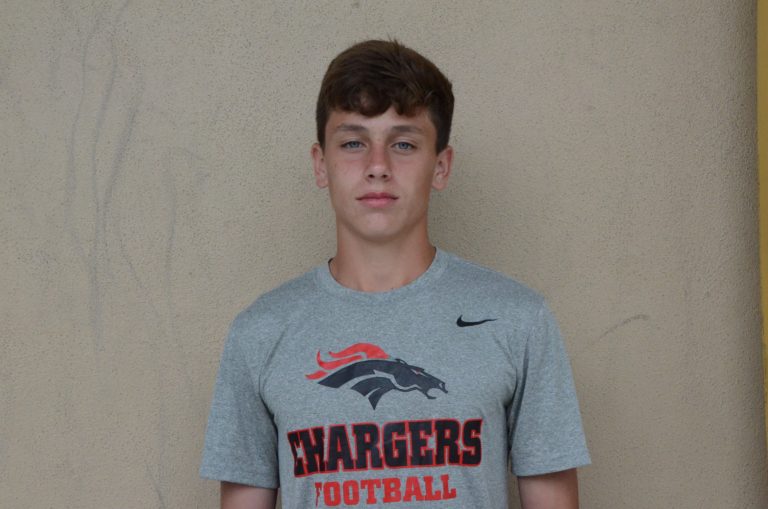 The Strawberry Crest sophomore recently won the Chargers' quarterback competition.
Strawberry Crest head coach Ron Hawn says incoming sophomore Braxton Plunk is "firmly entrenched" as the quarterback starter. As the Chargers went 6-3 in the University of South Florida Sling and Shoot tournament, held Saturday, July 16, and Sunday, July 17, Hawn says Plunk placed the ball well and limited turnovers. He also called the sophomore the "smartest kid" he's ever coached.
How are you feeling, after playing well this past weekend?
Pretty good. Our team gets along really well. We all play together, and we all seem to fit in.
Starting at varsity quarterback as a sophomore is a pretty big deal. How did you feel when you found out you're going to be the guy?
I felt good. I just want to say, "thank you," to coach (Hawn). He trusts me, I trust him and he puts us in a great position to do good.
What do you bring to the table, as a quarterback?
Being a good leader. I think we kind of missed that last year. I'll just try to do my best, leading this team and getting wins.
What are your strengths on the field?
As a quarterback, you have to be a lot of good things. You have to be able to throw the ball, think of defenses and know how to interact with the offensive line and receivers, to know if they're on the same page.
This summer, it looks like you guys had some kids leave the program. But it looks like a bunch of you stayed on, and it sounds like things have been going well. What's the morale like around here?
It really brought us closer together. We realized who wanted to be in this program, who wanted to do great things at Crest.
After last season, you guys have nowhere to go but up. What are you looking forward to about this upcoming season?
Obviously, we want to do a lot better than last year. I think we're going to do a lot better. We don't call them, "expectations," we call them, "goals." We want to be .500 or more.
You've been getting comfortable with the offense, now that you're getting the most snaps. Who on that offense could have a breakout year, maybe be one of your favorite targets or blockers?
My offensive line is great. They work hard. My receivers do good to get open. Brandon Frazier's going to have a big year, his senior year. Jamar (Hart) and Zion (Carr) do a lot of great things at receiver.
What other sports do you play?
I play baseball, but I think I'm just going to stick to football.
How long have you been playing football?
Since I was 6 or 7 years old.
What got you into it?
Being around my dad. He always watched football, and he used to play when he was a kid. You always kind of wanted to do what your dad wanted to do. I started at the Antioch Redskins and then I went to the Plant City Dolphins.
Who's your favorite quarterback?
I've got to say Peyton Manning because he's from my school, the University of Tennessee.
A lot of people think the Vols will finally win the SEC East this year. What about you?
I'm proud of them, but it's kind of a lot of expectations for them.
And Florida's not as bad as people think.
They're all right.
They're all right, but they've beaten Tennessee for the past 11 years.
Hopefully, that changes this year.
If you could go pro, what team would you want to play for?
I just want an opportunity. I don't care what team. I'll play for anybody.
Is there any sport you've never tried, but would be interested in?
Water polo. I like to play in the pool a lot, so I think that would be interesting. It's pretty intense.