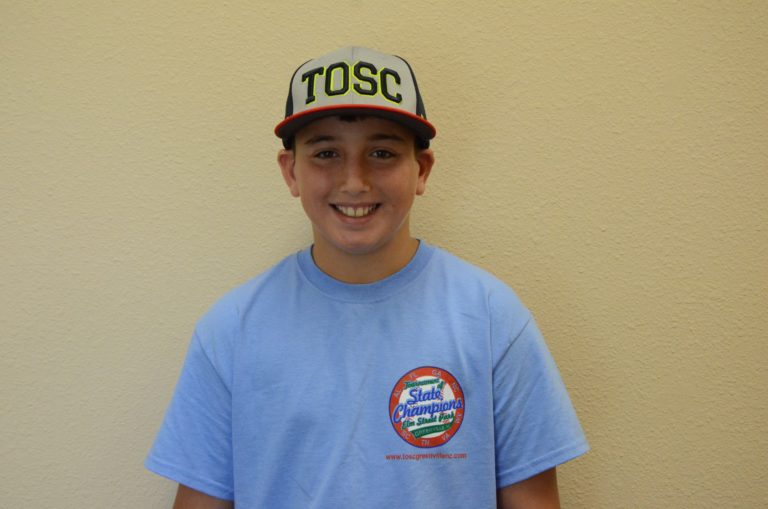 Anthony Palestrini hit 11 home runs in the postseason.
The Plant City Little League 9-10 A All-Stars, also known as Florida's state champions, placed third in the Tournament of State Champions in Greenville, North Carolina. Anthony Palestrini was one of many players who had a great postseason: he hit 11 of the team's 28 total home runs.
What was the most fun part about going to this tournament, besides playing the games?
Probably just hanging out with my friends around the fields.
What did you do for fun?
We played in the hotel.
What were you playing?
Ding-dong ditch.
When you guys went up for last year's tournament, you had the same finish. But which year was more fun for you?
I think just getting to do it all again and knowing what it was like is what made it better this year.
How long have you been with Plant City Little League?
Since I was 4.
What's your favorite thing about playing baseball?
I like hitting.
You hit a lot of home runs over the last few weeks. What's been your approach at the plate?
I just clear my mind and focus on the ball.
Did your coaches give you any good advice before the playoffs?
We worked on hitting a lot, on breaking balls and fastballs.
Breaking balls are usually tougher to hit. What advice did they give you for those pitches?
Just sit back on them, and don't lunge at them.
Do you play any other sports?
I play basketball too.
Is there any sport you've never played but always wanted to try?
Football. I'd want to play quarterback.
You get to play pro baseball for any team. Which one do you pick?
The (Los Angeles) Angels.
There are a lot of Angels fans around here. What is it about that team?
My two favorite baseball players are on that team: Mike Trout and Albert Pujols.
Why are they your favorites?
They're not just good on the field but, off the field, they're good people.
What would you want to do if you could hang out with them for a day?
Probably go hit baseballs.
Where do you go to school?
I'm going to Tomlin this year.
What's your favorite subject?
P.E.
You get $1 billion in the bank one day. What do you buy?
A baseball field.
You get any superpower. What do you pick?
Flying.
A little kid comes up to you at PCLL and asks for baseball advice. What do you tell him?
Just practice and practice.
What's the coolest thing you've ever done on a baseball field?
Going back-to-back with Adan Longoria. This season, we did it twice. The first time was in states, against East Lake. It was a close game, and then Adan hit a bomb. And then I followed it up with a line drive. Next time was against South Carolina, the first time we played them. He hit one off the flagpole, and then I hit one into the parking lot.
You said you're best at hitting, but what do you want to get better at?
Probably baserunning.
What's your favorite team you've ever played on?
Probably this team (2016 9-10 A All-Stars).