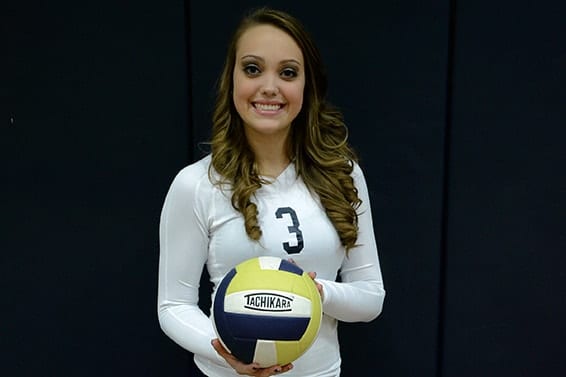 While balancing school, work and playing a college sport, Anderson University (S.C.) volleyball player Alix Hooker doesn't get to come home to Plant City often. Hooker was a standout in volleyball and softball at Plant City High School and also was voted Homecoming queen during her time as a Raider. The libero will open her junior season in a tournament at the Florida Southern Classic Sept. 6-7, in Lakeland.
What is you favorite aspect about volleyball?
I like the community aspect of being on a team sport. Just connecting together and the unity of the team. I also like the fast pace of the game.
Are you excited about coming back home to play?
When I found out it was on the schedule, I was extremely excited. Two of my teammates are also from Florida, so we're all excited to be back closer to home. It should be a really cool experience.
How often do you get to come back to Plant City?
Only on holidays. I've been back the past two Thanksgivings and Christmas and on Spring Break. Those are the few times I get to come home. My school is great, and I love the community, so I feel at home here, as well.
Do you have any plans while you're here, other than the tournament?
The whole team is going to get to come to my house and have dinner. Also, the day before we come back, after the tournament, we're going to the beach as a team.
What is the biggest difference between high school and college volleyball?
I guess a lot of it. When I grew up in Plant City playing, volleyball wasn't as big as it is now. I guess I'd say that it's just at a higher level in college and more intense and a higher priority.
What has been your favorite moment since playing in college?
The biggest thing for me was this summer working at a FCA (Fellowship of Christian Athletes) volleyball camp, in California. It changed my emphasis in finding more joy in volleyball. When you play a college sport, you do it because you're good at it, or do it because you love it. It's allowed me to truly enjoy it and gain confidence through that. I've also grown a lot through college and this summer.
What are some of your fondest memories from high school?
I don't think there were any specific moments. Junior year was when I realized that I had a passion for volleyball and wanted to pursue it to college. I also played softball, but I saw that (volleyball) was more than just a sport for me and was a part of who I am.
What do you miss most about Plant City?
Obviously, my family and friends, but I honestly feel that I'm at the best school for growth and for starting a new life. It's helped me not be homesick as much.
Outside of volleyball and school, do you have any hobbies?
I am on the leadership team for FCA for my team and also work in the admissions office at my school. So, I'm pretty busy, but I like to be involved on campus.
What is your major and what do you want to do with it?
I am an education major, and I plan to teach high school history and probably coach.