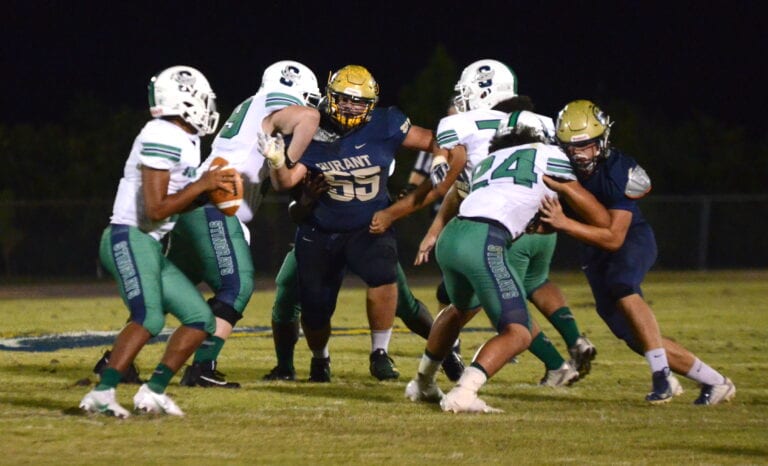 Wyatt Lawson was selected for the Hillsborough All-Star Game and signed with FIU last week.
Durant High School offensive and defensive lineman Wyatt Lawson has been a steady presence for the Cougars during his four seasons with the varsity team and all years of his hard work paid off this month. Not long after he learned he was selected for the Dec. 19 Hillsborough County East-West All-Star Game (along with teammates Aashton Kirkland and Eli Reed), Lawson signed with Florida International University last Wednesday and will join the Panthers' o-line room in 2021.
Know someone who deserves an Athlete of the Week feature? Email Justin Kline at jkline@plantcityobserver.com by the Friday before the next issue.
Now that your senior season's over and you can look back on everything, do you think you met the goals you set for yourself this year?
Coming in through summer and stuff, I was going to have a season where I was faster and stronger than ever before. I trained pretty hard and my goal was to have a good senior year, make a lot of blocks, have the running backs score behind me.
You're getting ready to go to FIU soon. What made you decide to play college ball there?
For one, coach Davis, he's pretty well-known and has a lot of connections… coach Rodriguez, the o-line coach, we have a good connection. I always wanted to stay in Florida and play for a state football team. It's only four hours away so the drive is easy. It's a good fit, a nice campus and I feel like it's a good place for me to go. And there's good competition in Conference USA. I want to try to succeed as best as I can.
Do you know what you want to major in at FIU?
I was thinking either business management, marketing or something like that.
What are you going to miss most about playing high school football?
I'm gonna miss the days of going out there, hanging with the boys in and out of school. Especially the o-line guys. I always liked playing on Friday nights, I'll always miss that.
What was your favorite memory of playing for Durant these last four years?
My freshman year when we beat Jesuit at the last second, fourth and goal. If they scored, they'd have won. We stopped them. It was cool.
Do you play any other sports?
I did shot put last year until it got shut down because of COVID, and I played little league baseball and that's about it.
Which sport would you try now if you could?
I would try baseball. I think if I could figure out how to hit the ball, I'd get pretty good at it.
What's the best advice you've gotten from your coaches at Durant?
Coach Wyatt, he's always helped me out and coached me hard. He's the type of person where he'll love you when you're not practicing and he'll get on your butt real quick when you are. But he and all the coaches were big on making sure we were good in school, that our grades were good and that we were becoming better people.
You and your fellow seniors are about to leave and a new wave of Cougars will come in for the first time. As someone who's been at this level for so long, what advice would you give them now?
Put your head down and get after it. It's hard work there and they're gonna push you. Don't give up. If you're a good player, stay there and you'll play. If you need the work to be able to start, they'll get you there… get after it and work for your spot. It'll come to you.