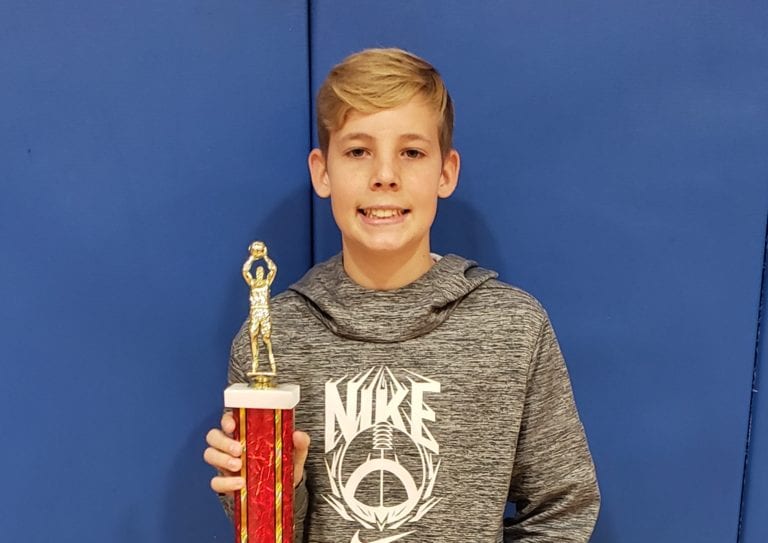 Waylon Rogers placed first in his age group the 2020 Tri-Star basketball competition.
The Plant City Optimist Club's annual Tri-Star Basketball Competition is always a fun one for the kids, as it puts their shooting, passing and handling skills to the test with a friendly competition. This year's winner in the 13-year-old boys bracket was Waylon Rogers, who scored a combined 120 points in the 47th annual event.
Know someone who deserves an Athlete of the Week feature? Email Justin Kline at jkline@plantcityobserver.com by the Friday before the next issue.
Tell me about the competition on Saturday.
I've done it a bit, so I know what goes on and it's easy. It's the basics of basketball. Dribbling, shooting, passing.
Which is your favorite event of the three in the competition?
Probably dribbling because I like to dribble a lot. I'm good with my ball handling skills, better than shooting and stuff.
How many times have you done the Tri-Star competition?
Three or four times before.
How long have you been playing basketball?
Since I was 7. My brother got me into it. He pushed me to get better and so did my family. I love sports, I love to be outside and it motivates me to keep playing. I want to get to AAU but for now I'm playing for rec.
Which positions do you play?
Point guard and shooting guard.
What's some of the best advice a coach has given you?
Look down the court.
Which athletes do you look up to?
My brother Wyatt, mostly, but I just kind of look up to Stephen Curry.
Do you play any other sports?
I play baseball, too.
How do you get in the zone before a game?
Gatorade gummies and music. Blueberry gummies are my favorite. I have some in my room right now. I just listen to whatever songs are on my playlist.
What's the coolest thing you've done on the court?
In a game, I did a snatch-back on a kid and he fell. That was like two years ago.