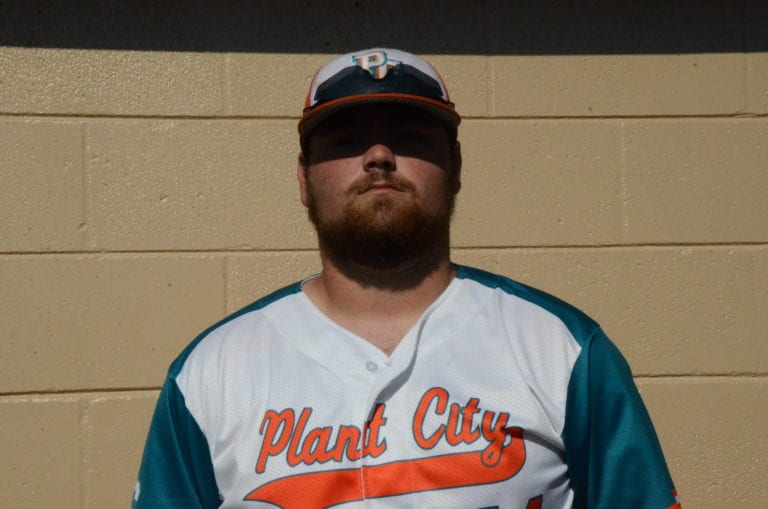 Tyler Dowdy pitched a no-hitter against East Bay on April 18.
Pitching depth has been a staple of Plant City baseball in recent years and, in 2019, junior Tyler Dowdy has offered further proof of that. Throwing two perfect innings against Bloomingdale on April 16 was a good look for Dowdy, but he topped that performance two nights later with a five-inning no-hitter against East Bay. The Raiders went on to win the game, 10-0, and close out district play on a high note thanks in part to Dowdy's gem of a ballgame.
Know someone who deserves an Athlete of the Week feature? Email Justin Kline at JKline@plantcityobserver.com by the Friday before the next issue.
You're coming off of a couple of great performances on the mound, and it wasn't that long ago that I saw you hit a game-winning, three-RBI double at the plate (March 14 vs. Strawberry Crest). It looks like you're having a good season, but how would you say you're doing?
Right now I'm kind of slumping down a little bit, but pitching's stayed the same. It's been good really all year. I stepped it up after the Sickles game. Hitting hasn't been there but we've been working on that and we're gonna get that back.
Before throwing that no-no last week, how were you feeling? Anything different before the game or did you go into it the same way you usually would?
I just go out there every day, and every day I get the chance to be on the mound I trust my defense. We've got a pretty good one. I just go out there and throw strikes.
The team has a great record right now and you're about to host the district tourney. Winning it would make PCHS history. With all that said, how are you all trying to not let that get to your heads before games?
We don't worry about our record. We don't worry about anything but who the next game is. We're just worried about going 1-0 for the rest of the season.
How do you get ready for each game?
We hit BP before every game. We have our coaches throw to us. We get our music going, get hyped up. We do it every day before practice, too. I hit BP and then if I'm pitching I do put on my headphones. I'm not as out there as (Parker) Messick — I talk a little bit, he's all about no talking — but I stay business. I know what I need to do.
What's something you've learned that's helped you get better as a pitcher and go have these good games?
Playing all the time. Playing summer ball, getting time and reps, getting my arms stronger and working on stuff every day. It's an every day grind, not having any days off.
You've been playing baseball a long time now. What keeps you going?
Baseball's a game of failure. You've got to be tough to play it. You can go 4-for-4 one night and 0-for-3 the next three games, like I have now, but it's fun… you can't let it get to your head. You've just got to come out here and play and do your best. If it's not your night it's not your night. If one night you've got to step up, you've got to step up and be the guy.