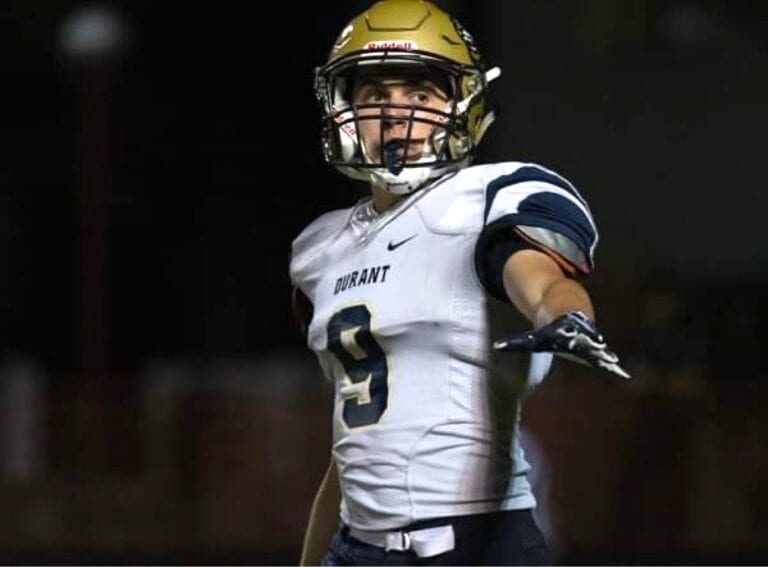 Tyler Bokor plays football and basketball at Durant High School.
If you need a good example of what it means to be a student-athlete, Tyler Bokor is your man. Bokor, a senior at Durant, has played football and basketball for the school for each of the last four years. In the classroom, he has a 6.2 GPA and is a member of the National Honor Society. Bokor had to miss two football games this season — including the team's Senior Night — after a classmate tested positive for COVID-19, but he's back on the field and ready for this week's regional quarterfinal.
Know someone who deserves an Athlete of the Week feature? Email Justin Kline at jkline@plantcityobserver.com by the Friday before the next issue.
Let's start with football. How do you feel about the way your senior season has been as a whole?
I feel pretty good about our season. We've had ups and downs but you can tell the growth we've had as a team. I just stayed prepared and made sure I was keeping up working out, watching film. There's nothing you can do, so you have to keep a positive mindset. You have to make the most with what you've got.
You've got regionals coming up this week Tampa Bay Tech has a high-scoring offense. What can Durant do to get the win and move on to semifinals?
I think we need to dominate the time of possession and maintain the ball as much as possible. I think our offensive and defensive lines are really important. They need to win that battle and if they do that, our skill players will make some plays on the outside. We can't have any turnovers.
Basketball's on the horizon, too. What are you looking forward to about the upcoming season?
I think we have a really good team this year, maybe the best we've had in years. We have good young players and good talent that has transferred here. I think we can win a lot of games. I think we're gonna get up and down the court really fast and put up a lot of points. We have good shooting and can push the pace. Our defensive rotations are strong. We've put a lot of effort into that. Our pace, shooting and work on defense are our biggest strong suits.
What's your proudest moment of the last four years playing high school sports?
There are a lot. For basketball, I think the end of last season. We went on a winning streak. We started off not good, then got on a crazy win streak to end the season. We were on a roll. We had a buzzer-beating win and that was an exciting moment. For football, this is the furthest we've ever made it in the season. Even though it was aided by the COVID stuff, I'm proud of that.
How did you get into both football and basketball for the first time?
I played football first, starting in sixth grade, and I always liked it. Basketball was, I just picked it up in eighth grade. I decided to try out for the team. I was watching the NBA and thought, why not try? I made the team and got pretty good.
Do you have a preference between the two sports?
No, I like both. I don't have a favorite between the two.
You also do really well in the classroom. As someone who's figured out how to balance school and sports and succeed at both, what's some advice you'd give younger athletes?
It's actually hard. There are a lot of days where I come home late from practice and do homework all night. But it's worth it. Grades are what will matter in your future for most people. To get into a good college — and right now I'm trying to get into UF — I wouldn't get in if I had slacked off… it's so important and you won't get this time back. If you have to grind after your sports practices, it's worth it.
What do you want to do after college?
I'm leaning toward engineering but am really undecided. I'm good at math and with computers, but right now I don't know.
What's the best advice a coach, teacher or parent has given you?
Both my basketball and football coaches, coach (Mike) Gottman and coach (Sean) Hayes, always stress the importance of school. They have to make sure our grades come first because they know that's what's most important… everyone loves sports and wants to be good at that, but realistically the most important thing is school because that's what's going to be most important for your life and your career in general.