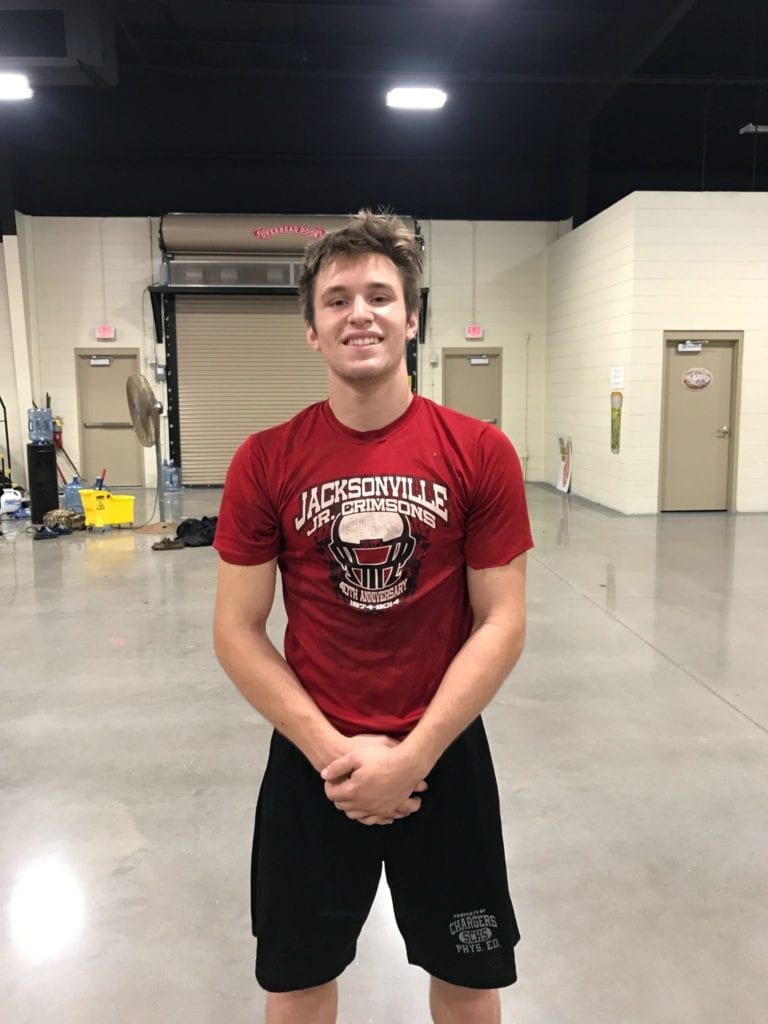 Triston Davidson excels on the wrestling mat.
One of Florida's best high school wrestlers at 160 pounds is Strawberry Crest's own Triston Davidson. The senior, who only has one loss this season, recently went undefeated at both the Weeki Wachee Duals and the Fit2Win Tournament at Countryside. The latter was Davidson's first-ever tournament win.
Know someone who deserves an Athlete of the Week feature? Email Justin Kline at jkline@plantcityobserver.com by the Friday before the next issue.
How do you feel about the way this season's going for you?
I'm just trying to keep my mentality up, to just keep myself motivated for this season. I actually feel a lot better after this break somehow, to be honest with you. I weigh less, I feel better, I have more strength.
What are you goals for this season?
My mind is always on the state championship. I know to get to No. 1 this year, state champion, it's Brevin (Balmeceda). He's from South Dade, he's No. 1. I've got to go against the No. 2, from Manatee, this coming week. I'm just trying to run it home, get conditioning up. I've been looking at all Brevin's stuff — he's No. 2 nationally — so I'm trying to get my conditioning up because that's where the other guy beat him. I'm trying to find his weak point. I'm trying to be the best I can this season.
Any college plans?
A lot of things are up in the air. I've had a job opportunity out in California, I've had colleges to look at like Life University and others throughout. I'm just trying to weigh my options. My coach is trying to talk me into going on with it, so it's been heavy on my mind.
What's been your favorite moment from this year?
The Fit2Win tournament was my first time winning a big tournament. It felt really good to be able to come out and pin him in the beginning of the second period. It felt amazing, seeing everyone happy with me and getting my medal over my neck. It was the best thing that could have happened to me.
What are you putting the most work into at practice?
I'm trying to train more on doubles just because I never train them, but there always ends up being a match where I get them. So I'm trying to work more on my doubles. Strength and technique is what I'm going for.
What's the most fun thing about being a part of this team?
The family part of it. We're absolutely a family. Even this last week, a bunch of us went over to hang out with the East Lake team and we all went to the beach, had fun. We do feel like a family. We're brothers and sisters here.
What's some advice you'd give a newcomer to the team?
A lot of kids, whenever they start, they all see the varsity wrestlers trying to cut weight. There's ways to do it. A lot of them try not to eat and try not to drink. The best thing I've seen is to eat, drink a gallon of water a day… starting just a few days ago, I feel 10 times stronger in practices, feel better and I've lost five pounds from it.
Cutting weight is tough and you can really hurt yourself if you do it wrong. Everyone should learn the right way to do it.
Oh yeah. Eat little bits every hour to get your metabolism up instead of just eating two big meals or one big meal. Just a little bit throughout the day. The darker the meat the better, so I like to eat Slim Jims and stuff like that. Something to give me energy.