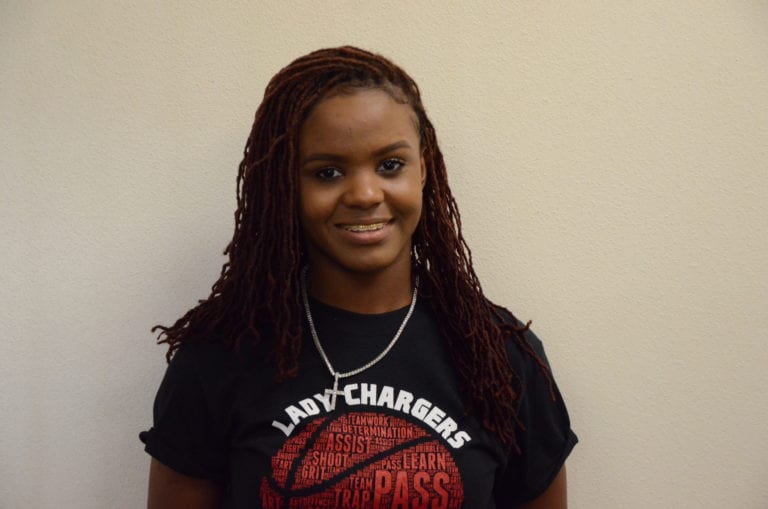 Strawberry Crest's point guard sparked the team in its regional quarterfinal win over Bartow.
The Strawberry Crest Chargers advanced to Tuesday's regional semifinal with their 63-39 win over Bartow on Feb. 13. Though Crest played well as a whole on offense and defense, one of the biggest sparks for the team was senior point guard Taylor Butler's play. Butler finished the game with a team-high 24 points on 73 percent shooting (11 of 15 field goal attempts) and was nearly unstoppable driving to the basket in the third quarter. She also added five assists and two steals to go with her season-high point total.
Know someone who deserves to be Athlete of the Week? Email Justin Kline at jkline@plantcityobserver.com by the Friday before the next issue.
You had a great game against Bartow. Was anything different about that game for you?
Yes, it was more of a do-or-die situation. I felt like we had to win and we had to do it by any means necessary. If I had to play hard and through fatigue, I had to do it because it was either win or go home.
What about that defense let you get so comfortable attacking the basket and making such a high percentage?
I felt like they were overplaying the whole game and being aggressive. I have a quick first step, so that allowed me to get past them.
That was your season-high for points. Did you know you were getting that during the game or did you not know until afterward?
I found out the next day. I was just trying to win.
What's your first year playing for Crest been like?
It's been fun. Every day's been a new lesson. It's a great group of ladies to play for. I feel like it's a family atmosphere. I just love the energy. Every time we play, we're always fighting and we're always the underdogs. Underdogs have to fight. We're all we've got.
Earlier this season, Megan Watson said having a true point guard this year was huge for the offense. How do you feel like your style has fit with the team?
I feel like I've fit in well. When I play, I always look to pass first. What can I do to help my players have a better shot at scoring? If I attack the defense, make sure to look to see if Megan's open for a three. Our whole offense is run through the point guard and you all have to be on the same page.
What's been the highlight of the season for you?
Winning the district championship game. I fouled out in the last five minutes, so I just saw my team, they knew the situation, two of us fouled out… and they just fought. We had a pretty good lead but they just kept fighting and fighting. I was on the bench cheering for them really loud. We overcame.
Any college plans?
Me and my parents are weighing my options right now. I'm either going to walk on wherever… or there's the option of junior college. It's just a grinding process. I know I can play at the next level and I'd really like to do anything I can to play at the next level. I just have to have an opportunity.
So how would you pitch yourself to a college coach? What does Taylor Butler bring to a program?
I bring leadership. I bring discipline. I'm a team player, always cheering on my teammates. I'm a student of the game and always looking at film, trying to see "OK, I could have made this pass a little sooner" or "I've got to make this shot" or "I'm kind of leaning on my free throws, I've got to straighten up." I'm just a gritty player.
Do you play other sports?
Just basketball right now and I'm going to play flag football and track this year. I've played soccer since I was like 3, then I went to high school. I went to Tampa Catholic and my varsity coach made me pick between (soccer and basketball).
Why pick basketball over soccer?
Soccer came easy to me. It was always easy to me. Basketball always challenged me. I'm 5-foot-1 and I've always heard I'm not tall enough. I felt like I've had to work twice as hard. I like the challenge in basketball. I can show you I can play out here with people that's six foot. I'm small but I try to play big.
What will you miss most about being a Charger when you graduate this year?
The team. Even though I've been here one year, I've built a great bond with these ladies. I really love them… they're always sending me inspirational quotes. It's bigger than basketball. And then my coach (La'Tosha Lewis), she's like a second mother to me.