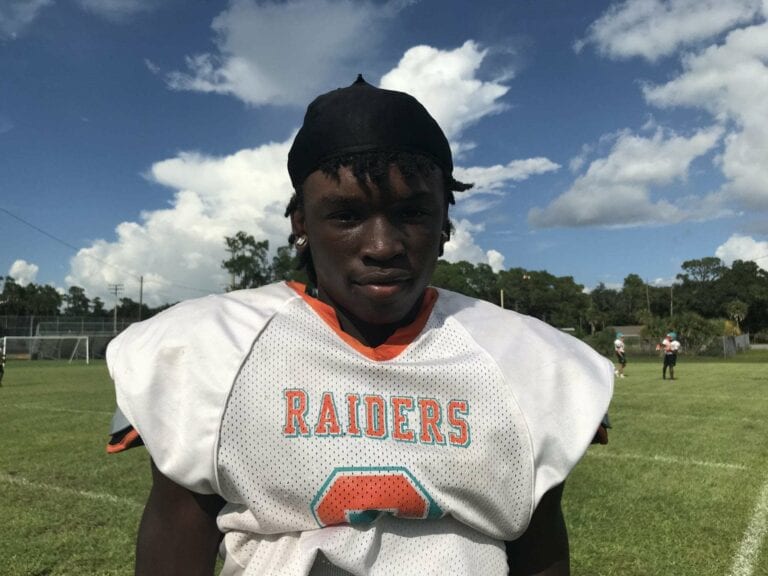 Romello Jones has been carving defenses up on the football field in the last few weeks.
One of the Plant City Raiders' top offensive weapons of late has been junior running back Romello Jones, who has stepped into a larger role over the last few weeks and rewarded the Raiders with plenty of points. In the Battle for the Redman Cup, Jones powered the PCHS offense to a 35-7 win with 203 rushing yards and all five of the team's touchdowns coming on just 10 carries. The following week, Jones gained 70 yards on 17 carries and scored both of Plant City's touchdowns in the Raiders' 32-14 loss to Hillsborough. His last two performances have seen Jones take the team's season lead in both rushing yards (540) and touchdowns (eight). He and national star Mario Williams are now tied for the team lead with eight total touchdowns on the season.
Know someone who deserves an Athlete of the Week feature? Email Justin Kline at jkline@plantcityobserver.com by the Friday before the next issue.
Your workload's gone up quite a bit in the last few weeks and you've been playing very well. What's changed for you since the start of this season?
My work ethic. My coaches have been pushing me to go harder. They're pushing me and expecting more out of me. On top of that, my coach kept pushing me to go to the weight room early in the morning and I've been going, I've been lifting.
Let's talk about the Durant game. That was a crazy night for you. What were you feeling before the game and what was working for you on the field?
Once I started seeing my team was struggling to score a little bit, I was about to step it up. I have to thank my o-line and thank God… the coaches were working with me, they had faith in me, they gave me the ball on fourth down and I was able to make plays. They trusted me and I didn't let them down.
How do you feel about the way this season so far has gone for you and the Raiders?
It hasn't been going so bad. There's some games I feel like we should have won. In my opinion we should be undefeated, but now the playoffs are just beginning and we're moving forward. Everybody's 0-0. Me and my team are ready to go out there and get that ring. We're on that road.
What's something you've learned from playing this year that's helped you get better on the field?
Cooler heads prevail. I realize that when people talk trash to me and I stay calm, I feel better in everything I do. When you play the game and it comes to you naturally, you don't talk trash and it works in your favor. Stay humble, stay hungry.
Are there any running backs you try to model your own game after?
D'Andre Swift when he was in college at Georgia. I admired him as a running back. In the NFL, Jamaal Charles, Alvin Kamara and Barry Sanders. LeSean McCoy, too. I used to love the Eagles with him and DeSean Jackson.
How long have you been playing football?
I've been playing football, I would have to say cause I'm about to be 17 in a couple days (Wednesday), 14 or 15 years. I used to be outside every day playing football from when I was 2 or 3 years old. When I first touched that pigskin, I just fell in love with it… My dad knew that was gonna be the sport for me. I love it.
Do you play any other sports?
I run track and also play basketball. In track I run the 100, 200 and 400 and the 4×1 relay.
What's been your proudest moment as an athlete?
When my running back coach was telling me I was gonna be a captain on the team and I was gonna do great, a couple colleges had interest in me… I felt great. That motivated me to keep working hard.
Any college offers or scouts looking your way yet?
Not right now, no college offers. I do have a couple colleges keeping an eye on me.
What are your goals for the rest of your high school career?
For the team to do great, to be a good example for everyone who will come after me, to become a leader on the football field and in the community, to be a positive force on my team and to make my coaches, my parents and God proud.