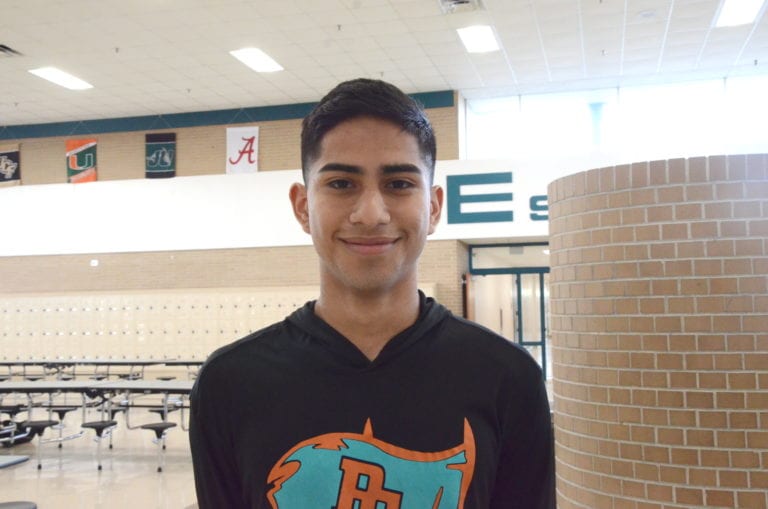 Paulino Ramirez and the Plant City Raiders are undefeated on the soccer field.
With a 6-0-1 overall record, the Plant City Raiders are right on track to once again make some noise in Florida's boys soccer scene. This year's balanced attack is led by junior Paulino Ramirez, who has scored seven goals in as many games and recorded two assists. His 16 points are tied with Jair Garcia for the team lead.
Know someone who deserves an Athlete of the Week feature? Email Justin Kline at jkline@plantcityobserver.com by the Friday before the next issue.
You've all started the season on a high note and it looks like the high-pressure game is working well. In your opinion, how are things going for the team?
This year, pretty well. We're still a little sad about the Brandon loss, but that's in the past. We've got to focus on now and just keep winning every game.
Wasn't that game a tie?
It was a tie, but that's like a loss for us.
Still a great start to the season. When we talked before the season you said you were excited to step into a leadership role this year. Now that you're seven games in, how's it working out for you?
Right now, we handle everything as a team. Overall, everything's going good for us.
Losing David Jalomo for the regular season hurt, but you've all been really good about keeping opponents from putting many shots on net. How do you keep the pressure up all game like that?
For us, it's more like we just want to score goals. We want to go up 8-0 in the first half, pretty much. As long as we keep up that pressure there's not gonna be any shots on goal.
What's been the best moment of the season so far?
That's pretty hard to think about, actually. I'd say against Crest, by far one of our best games. We all played like a team, we were passing and we were not selfish. We played like a team.
The expectations for you guys are high, especially with you all playing as well as you have been. How are you all handling that?
To us, we believe it's all a mental game. If we're stuck in the past we're not going to get farther. We're just going to focus on being a family, being a team and train as hard as we can mentally and physically.
You all like to play FIFA in your free time. Who's the best player on the team?
I've got to say Anthony Ruiz. He uses Real Madrid, sadly.
What's the craziest FIFA game any of you guys have played against each other?
Probably Anthony playing against Elvis (Castro). They're usually like 2-3, it's always a one goal difference between them.

What's the funniest thing you've seen while hanging out with your team?
The funniest thing has to be when people get mad. Last week, I made J.J. pretty nasty and everybody was laughing about it.
Obviously you'd like to win another state championship this year, but what else do you want to accomplish for yourself by the time the season's over?
I just want to send out emails to college coaches. I'm trying to play at the college level. I want to focus on school. I'm looking to go into engineering or accounting, something to do with math because that's what I'm good at.
So math is your favorite subject in school. Who's your favorite teacher?
My favorite teacher is Ms. Booth. She's just open about everything. She's my psychology teacher. We learn about real life and the way the mind works, it's very interesting.