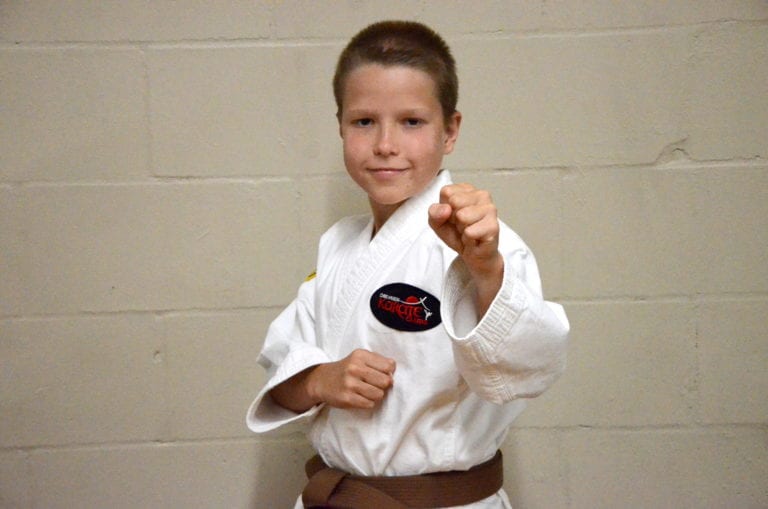 Nikolai Townsend is one of the most accomplished 13-year-old karate practitioners in Florida.
Chris Welbon Karate Clubs will be back in Fort Lauderdale for AAU nationals the week of July 4. Among the 27 students who will compete in kata, kobudo and kumite events there, Nikolai Townsend is one who stands out. Townsend, 13, is ranked first overall in the state's 13-14 year old brown belt age group heading into July's tournament. He will compete in all three events at nationals and is training hard to do his best out there.
Know someone who deserves an Athlete of the Week feature? Email Justin Kline at JKline@plantcityobserver.com by the Friday before the next issue.
How long have you been doing karate?
I've been doing it since I was 9, so four or five years.
What first got you into karate?
(My parents) kind of bumped me into it, but when I started doing it, I really liked it and wanted to come more often.
So what was it about karate that made you want to keep at it?
Just because it helps you learn what to do when somebody comes up to you and what your reactions are. It helps me keep focused and learn control, mostly.
You've accomplished a lot this year, but what are you most proud of doing in karate?
I'm just most proud of succeeding in class in general and moving up ranks. It shows what I know and what I can do. I've really been liking tournament team, as well.
That's a pretty darn good team, too. How long have you been with the team?
This is my second year.
AAU Nationals is coming up soon. What are you looking forward to about this trip?
Just succeeding and showing what I know, and things like that.
Which events will you compete in?
Kata, weapons and sparring.
Which is your favorite?
Kata. Hand katas because I can move them better than a weapon.
What's something one of your teachers has told you that's really helped you in karate?
Well, in weapons, they showed us some moves to do. Once we get up in higher ranks in weapons, I'll learn to use them. Learning to spin the bo with just one hand, and a few other moves.
Do you play any other sports?
No, sir.
Is there anything you would try if you could?
Baseball.
What school do you go to?
Marshall Middle.
What's your favorite subject?
I kind of like science the most.
How far are you wanting to go in karate?
As long as I can. If there's times where I have too many things to do and I'm not able to make it all the time, then I'll stop from there. But, as long as I can.
What's the most fun you've had with your classmates and tournament teammates?
Sometimes we go to Applebee's to have a fundraiser. I like doing that. We do yard sales and I like those, too.
What advice would you give to someone coming in to learn karate for the first time?
I would just say to focus. Try your best. If you can't do something, don't shut down right away. Keep going as far as you can.