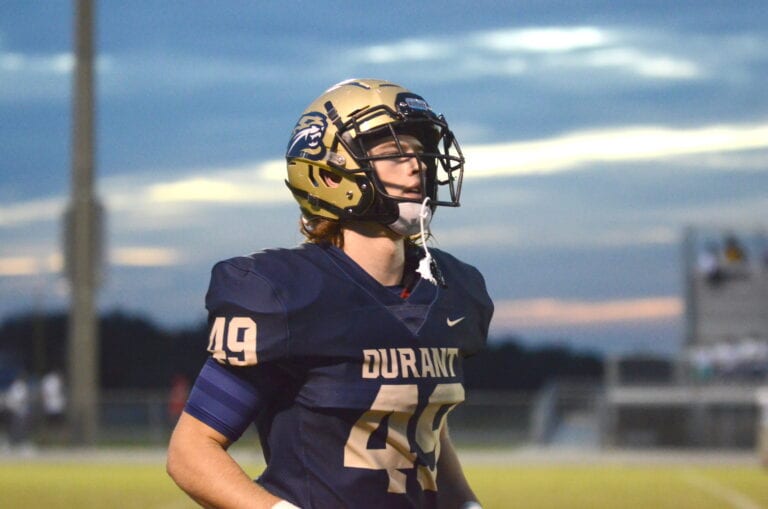 Nate Brennan was in for a shock shortly before his senior year started: he was diagnosed with type 1 diabetes. But Brennan, a three-sport athlete, refused to let his condition take anything away from him. He adjusted his diet, stayed positive and kept moving forward to get back into football shape in time for this season. In addition to football, Brennan is a member of Durant's hockey and track and field teams and he has a 4.12 GPA.
Know someone who deserves an Athlete of the Week feature? Email Justin Kline at jkline@plantcityobserver.com by the Friday before the next issue.
What led to your diagnosis?
For about four months, over the summer when quarantine started off, I started losing a lot of weight. Before quarantine, I was 215 pounds. In four months, I went to 165 and was feeling horrible all the time. I was still going to practice and working out, trying to push through it, but it wasn't working out, so I told my parents I wanted to get checked out. I went to the hospital for four days and that's when I was diagnosed. I have type 1 diabetes, so I have to inject insulin because my pancreas doesn't produce it.
You clearly didn't want to let diabetes affect your athletic career. How did you stay motivated and what adjustments did you have to make to your life?
I just have a strong mindset to stay positive all the time, no matter what. I try to always think about the positives. I've been doing the same things — it's only little changes in my diet and how I prepare for games. Depending how high or low I am can affect how I play, so I have to make sure I'm well-nourished, hydrated and ready to go at all times. The main thing is the carbs. I can't break down the sugars, so my diet's gotten better. I used to have a good amount of junk food even though I was working out, but I don't take in as much carbs. I've leaned out but still maintain mass and size. I'm already back up to 205 pounds. The first week out of the hospital, I went in at 168 and I came out at around 182. That was mostly because of water weight. I lost a lot of water weight and I drank a lot, like an unhealthy amount. I drank about two gallons and it would go straight out.
What are some signs people your age who may have diabetes be on the lookout for, assuming they have it but may not know it yet?
How you feel, how your mindset is. If you feel different, like having different thoughts or you feel weird, or if you feel unhealthy, that could be a sign.
Now that we're halfway through football season, how do you feel about how things have played out for you and the Cougars?
Every team has gone though the same things we have, so we're not set back because of all of that. Everyone has had the same amount of practice. It comes down to mindset and teamwork. I think we had a great summer session. We have 19 seniors and we've all bought in. Most have been here four years. We're a pretty well put-together group.
What are your goals for the rest of the year?
I want to better myself, be a better person. I have type 1 diabetes, so I feel like I have to help others who have T1D. Maybe talk to them. I know this could be hard for younger kids. I'm older and I have a pretty good mindset, I'd say, and I've been able to take it on. I want to get bigger, stronger and faster for football and always study hard in school.
What's your favorite thing about being a Cougar?
Big wins at home are always great. Homecoming games — every kid wants to be there, especially now. The students really make us ready to go on Friday nights. They're like our voice. They speak for us, I feel.
Do you have a preference between football and hockey and track?
I love them all, but football is number one.
What will you miss most about playing high school sports?
All the friends and memories.
Do you have any college plans?
I do have one offer but am talking to a bunch of different schools. I've had five or six contact me in the past week or two. I'm trying to keep my options open and take thing day by day. I'd like to study physical science.
What advice would you give to the next generation of Cougars, the athletes who will join the football and hockey teams after you and your senior teammates graduate?
Just keep working hard, focus on what's important, don't get caught up in other things — focus on what you need to do to make yourself the best you can be.