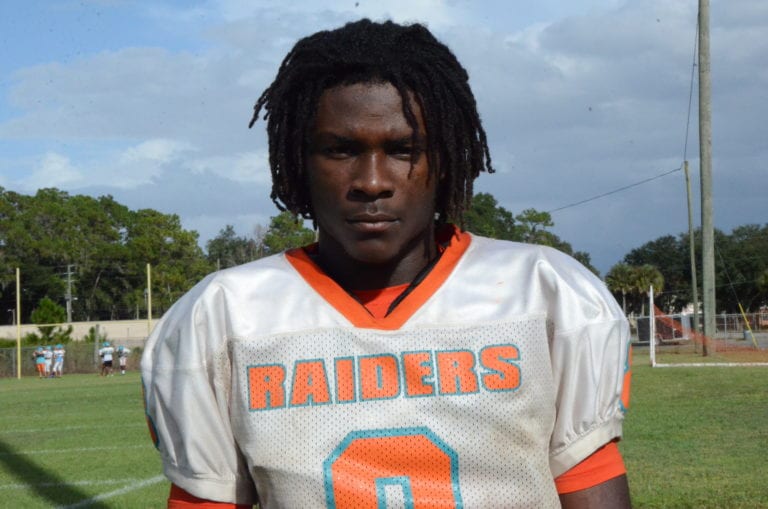 Mario Williams is a force on the football and baseball fields.
Mario Williams is pretty close to being a young man who needs no introduction. The No. 3 wide receiver in the national class of 2021, according to ESPN, Williams is becoming one of the most sought-after offensive players in the country thanks to his blend of skill, speed and athleticism. He's also a baseball state champion who can cover more ground defensively in center field than most high schoolers and, of course, steal a base in the blink of an eye.
Know someone who deserves an Athlete of the Week feature? Email Justin Kline at jkline@plantcityobserver.com by the Friday before the next issue.
You've been rocking some college gear during games. Do you have a pretty good idea of where you want to go or are you still open?
Nah. I've got Florida gloves on right now. I like everywhere right now. I went to Florida this weekend. They're really trying to get something going. I've got the Georgia Tech wristband on and the Oklahoma wristband.
What kind of program is the best fit for you?
First off, academics. Then, do they have a quarterback and do they throw the ball? Are they gonna let me play baseball, too? Really, I'm looking for what we've got here.
What do you want to major in in college?
I think I want to do business and start my own, like a sports business because I like sports and I've always been playing my whole life.
What's the proudest moment of your football career?
My sophomore year. My freshman year, everybody was like "Mario's good, Mario's good." My sophomore year, I really got to see myself progress and get better. Then it was like, "Dang, Mario, you can be something." Stuff started coming in. My cousin, Larry Hodges, he went to Miami and was a top recruit. I was like, "Dang, he's on ESPN, I want to do that." So I started working hard to make sure I got there.
Then you got there and a lot of people started talking about you. But what's something about you that you think people don't really talk or know much about?
That I'm really good at baseball. They think I'm just good at football because I've got offers for football, but schools are looking at me for baseball, too. Wherever I go, I'm gonna be playing both. I've been playing both my whole life. I just try to be myself and get better out there in the outfield, swinging the bat and progressing out here on the football field.
So what was it about baseball that made you treat it like more than just an offseason sport to stay in shape for football?
I was pretty good when I was young. I could throw the ball. I was fast. I could run everybody down. I could hit. When I played 8U, the coach would throw to us and I could hit the ball to the gate. I was like, "I could be pretty good at this." Baseball is not easy. Kids on the football team joke around like, "Oh, I can hit a home run." Nah, man. When you've got somebody throwing 90 miles an hour at you, you're gonna be scared. I've been swinging a lot this past summer. I played a lot of summer ball and worked in football. I was playing in a wood bat tournament and hit a home run. I've been swinging it pretty good.
What hobbies do you have outside of sports?
Really, it's just school and sports. I'm thinking about what business I can start when I get older and what I can do to help the community.