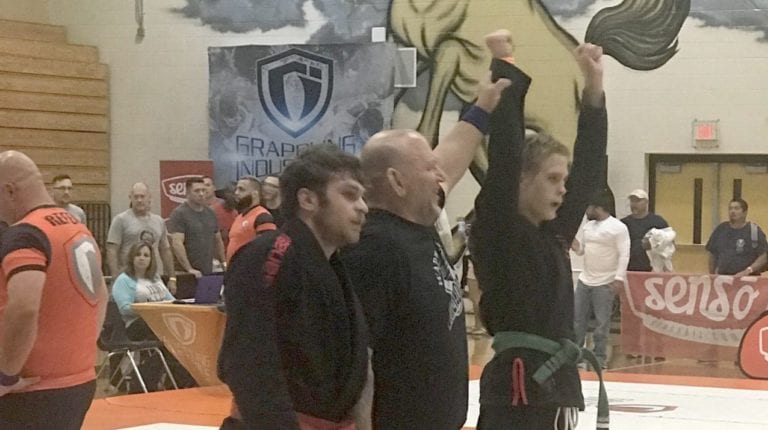 Lex Strickland had an impressive showing at the Grappling Industries Tampa tournament last weekend.
One of the most impressive performances at last weekend's Grappling Industries Tampa tournament at Strawberry Crest High School was that of Lex Strickland, who dominated the 14-15 Advanced division and moved up to the Adult 155-pound division to test his skill against tougher opponents. Strickland, who is a member of Charger Wrestling Club, placed first in his designated age group and third in the Adult division. He also trains with Gracie Pac MMA.
Know someone who deserves an Athlete of the Week feature? Email Justin Kline at JKline@plantcityobserver.com by the Friday before the next issue.
What was it like, switching brackets during the tournament?
It was different. I was kind of nervous because I didn't know what to expect. It was hard. In 14-15, I was confident and came in first. Adult, I was a little nervous because of the size, strength, taller than me. I just had to focus on my technique.
In the Adult bracket, when did you get a confidence booster?
It was the first match. I was going with a guy and told myself I had to focus and I could get through it. I flipped him over and put him in an arm lock.
Any other tourneys coming up?
I have one July 27. It's submissions only, there's no time limit. It's also at SCHS.
How long have you been practicing jiu-jitsu?
About 10 years now. I was in the bathroom with my dad and he was telling me about it, he said it would be just like WWE and I would love it. I loved WWE at the time. So I tried it and on the first day, I immediately fell in love with it. I got to use my body and it made me feel good inside because I knew I could do stuff with my body and feel confidence in myself.
What else do you train in?
Jiu-jitsu, Muay Thai and MMA at Gracie Pac MMA. And I'm also with Charger Wrestling Club.
Which style helps you the most?
None of them. It depends who you're fighting. Some people are great on the ground and you have to stand up with them. Others have great hands, so you have to take them down.
Any advice for newcomers to grappling?
I would just say to push forward. It's gonna turn out good. Nothing bad will happen. You might get hurt here or there but it'll turn out good for you.
Do you play any other sports?
No, I've just done MMA, wrestling and jiu-jitsu my whole life.
What would you try if you could?
Maybe some tae kwon do. They have really good kicks.
Which athletes do you look up to?
Daniel Cormier, Conor McGregor, there's a lot. Jordan Burroughs. My coach, Chris Rodriguez.
What's the best advice you've gotten from a coach?
Just focus. That's the best advice.