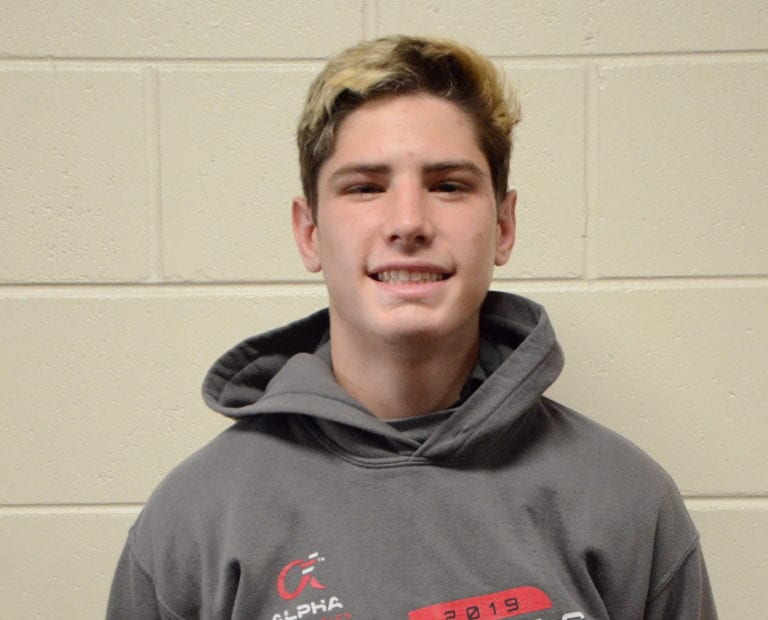 Jarrett Affronti will once again represent Strawberry Crest at the FHSAA state wrestling championships.
It's hard enough to get to the state championship one time, but going twice in a row is an even steeper hill to climb. Strawberry Crest's Jarrett Affronti was game for the challenge this season and, as of last weekend, ended up being one of two local grapplers (along with Durant's Hendon Haley) to make it. Affronti placed fourth overall in the 132-pound bracket, securing his spot at states for the second and last time in his high school career.
Know someone who deserves to be Athlete of the Week? Email Justin Kline at jkline@plantcityobserver.com by the Friday before the next issue.
Tell me about regionals. What was the tourney like for you this year?
It was good. It was tough. I had to come back after losing in the second round. I had to wrestle my way back up and I ended up securing my spot in the blood rounds.
You faced Alex Soto twice in the bracket and that's a tough draw. What did you learn from those matches that will help you at states?
Just to clean up my technique and finish shots better. The second time I wrestled him was a lot better than the first time. The first time, I got beat pretty bad. The second time was a lot closer.
What was working well for you in the tournament?
My top game was really good. I was able to hold kids down and prevent them from scoring points on me.
Where have you improved most on the mat since last season?
I would say my neutral has been pretty good this season. It was pretty good last season, but not as good as I think it is this season. This season, usually I'm able to get the first takedown on most kids.
You've been here all four years. What was the experience like for you?
It's been awesome. I've been here when it wasn't that good. I've been here when we got our first district win and now I'm glad to be able to finish it off here at Crest.
What was big for building up the culture in the program?
Definitely when we opened up our club. It allowed us to practice in the offseason because we didn't have an actual place to practice in the offseason. Practicing in the offseason is what gets you a lot better. If you only practice during the actual season, you're not gonna get that much better. If you're constantly practicing in the offseason and going to camps, that's what's gonna get you better and that's what our coaches did.
What's the most important advice you'd give to the kids who will come up in the program next year, after you're gone?
To never give up. Things might get rough when you're wrestling and you may have a few losses you know you shouldn't have had. It's a tough sport and you just have to keep working and improving. Soon you'll see everything was worth it.
Any college plans?
Not for wrestling, but I am gonna go to FSU. I might try out some intramural sports, but nothing huge.
What's been your proudest moment as a Charger?
Definitely making it to states this year and last year. It's a really tough thing to do, and especially doing it two years in a row is even better.